Ad blocker interference detected!
Wikia is a free-to-use site that makes money from advertising. We have a modified experience for viewers using ad blockers

Wikia is not accessible if you've made further modifications. Remove the custom ad blocker rule(s) and the page will load as expected.
A soldier in Girardot's unit, he helped him during the last tests at Parousia Academy. Under certain conditions either he or Jinkai will rejoin Girardot during the siege of Epistema, and follows the team until the fall of Dalkia.
A year later, he joins the Arthias rebellion out to exact revenge for Girardot and liberate Grandall from the tyrannical Emperor, Strife.
Weapons
He uses the weapons common to the Pirate style - Chinese Sword
Create a Soul formula SCIII
Name:Xiaoxin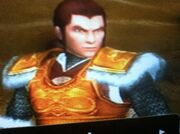 Sex:Male
Job:Pirate
Weapon:Chinese Sword(1)
Alignment:Good/Light
Face:05
Eyebrows:04,24
Lips:04,16
Eyes:20,27
Skin:04,18
Underwear:01,18
Voice:Man
All:--
Head:--
Hair:Martial Artist(04,24)(16,16)
Mask:--
Chin:Scar(01,27)
Lower Torso:Chain Mail(11,01)
Mid Torso:Dragon Tunic(04,26)
Upper Torso:Warlord's Armor(06,21)
Arms:Warlord's Bracelets(07,24)
Shoulders:Warlord's Shoulders(07,20)
Neck:--
Waist:Warlord's Tasset(07,23)
Lower Legs:--
Upper Legs:Matabiki(18,27)(10,12)
Shins:--
Socks:--
Feet:Warlord's Greaves(07,21)