Welcome/Bienvenue/Wilkommen
Edit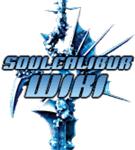 Hi SamSandy,
Welcome to the Soulcalibur Wiki, and thank you for your contributions to the Characters page! There's a lot to do around here, so I hope you'll stay with us and make many more improvements.
I'm really happy to have you here, and look forward to contributing with you!
-- Nightmare76 (Talk) 16:07, June 15, 2011
About bangoo!
Edit
Y known, I hate to lye but its true, I saw Daishi mentioning that he wants to replace Rock with Bangoo! That makes sense since Bangoo is younger and more agile than his father! Tesshu When The Law Fails to Serve Justice one can buy Justice. 11:14, July 29, 2011 (UTC)
Haha yeah my bad! Had the game in mind and not the novel :') Thanks for pointing that out! JefferyDante 16:40, November 17, 2011 (UTC)
Why did you delete the Artwork of Algol from his SCV gallery? I made that, along with SarahPaiFan, and the admins thought it was ok.