Welcome/Bienvenue/Wilkommen
Edit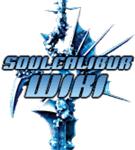 Hi Hangingmanpeter0,
Welcome to the Soulcalibur Wiki, and thank you for your contributions to the Talk:E.I.N. page! There's a lot to do around here, so I hope you'll stay with us and make many more improvements.
Recent changes is a great first stop, because you can see what pages other people have been editing, and where you can help.
Questions? You can ask at the Help desk or on the "discussion" page associated with each article, or post a message on my talk page!
Need help? The Community Portal has an outline of the site, and pages to help you learn how to edit.
Please sign in every time you edit, so that we can recognise you!
I'm really happy to have you here, and look forward to contributing with you!
-- Wikia (Talk) 09:52, July 28, 2011
I've checked him, yeah he was right to be lock and it was locked only for unregistered and new users. Maybe you need to wait abit longer until able to edit the page there. However, as an admin, we got to be fair to judge on the right person in right actions.

User_talk:Ericard 15:14, January 23, 2012 (UTC)
Excuse me, sir?
Edit
Hello! I was trying to talk with you at Tekken Wikia to explain the edits I did, but you know, you blocked me, so it's just impossible. I just wanted to say sorry about the edits, I forget to search about the T7, and I'm getting used to see a lot of grammar errors in the wikias, so I just edited. I didn't wanted to troll the wikia, I swear, especially because I love Tekken and it's not of my nature try to get a fight (I normally run of em ^^"). Though, if you don't trust me and want I to stay blocked, that's okay. I just wanted to explain that. (And yes, I know, Soul Calibur Wikia =/= Tekken Wikia and it all... But it was the only way I found. Sorry for bothering.) Redside12 (talk) 21:08, July 21, 2012 (UTC)