Welcome/Bienvenue/Wilkommen
Edit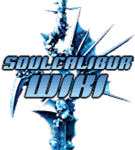 Hi Evil Cheese Wedge,
Welcome to the Soulcalibur Wiki, and thank you for your contributions to the Siegfried page! There's a lot to do around here, so I hope you'll stay with us and make many more improvements.
I'm really happy to have you here, and look forward to contributing with you!
-- JefferyDante (Talk) 23:34, September 7, 2012