Welcome/Bienvenue/Wilkommen
Edit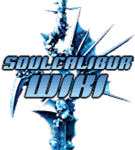 Hi Evil Cheese Wedge,
Welcome to the Soulcalibur Wiki, and thank you for your contributions to the Siegfried page! There's a lot to do around here, so I hope you'll stay with us and make many more improvements.
I'm really happy to have you here, and look forward to contributing with you!
-- JefferyDante (Talk) 23:34, September 7, 2012
RE: Graf Dumas/Nightmare
Edit
JaseyJasee Question?
I'll revert Neffyarious' edits as I do believe that Nightmare from SCV should be a separate character from the previous Nightmare, however the final decision should be made by the community so I advise you to make a blog post/poll about the situation and see who in the community agrees with keeping Nightmares SCV separate. (19:36, May 14, 2015 (UTC).