Welcome/Bienvenue/Wilkommen
Edit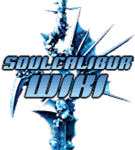 Hi ElderDragonSlay3r,
Welcome to the Soulcalibur Wiki, and thank you for your contributions to the Talk:Algol page! There's a lot to do around here, so I hope you'll stay with us and make many more improvements.
I'm really happy to have you here, and look forward to contributing with you!
JefferyDante (talk) 02:52, April 26, 2013 (UTC)
Grammar fixings and whatnot
Edit
You'll eventually notice that nearly all of SoulGauger's articles have incorrect grammar, spelling, etc.; he is not a native English speaker. If you want to try to correct all of his mistakes, you can; as much as I'd like to correct his mistaskes myself, I believe it is simply not worth it, due to the sheer number of content he already has and will continue to have. I'm just letting you know so you don't end up doing a lot of unnecessary work. ~Hyper Zergling 14:43, December 27, 2013 (UTC)
You really have to tell that to anybody,  its kinda annoying
The Wolf is Around here (talk) 14:51, December 27, 2013 (UTC)