Soulcalibur: Shattered Destiny
is a upcoming live-action/animated epic fantasy fanfilm to the
Soulcalibur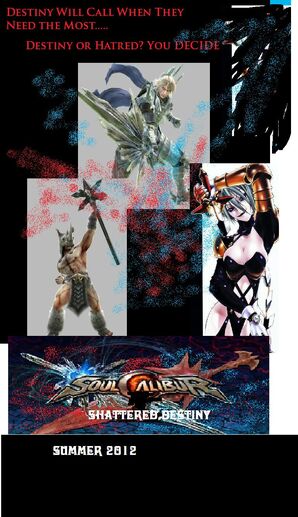 games by Namco /Bandai. The fan-film project is currently in pre-development and the film will be directed by the Marsh Bros. Anthony Marsh, Jr. and Austin Marsh.
Premise
Production
The film will use footages from Soulcalibur II , Soulcalibur III and Soul Calibur IV while resent story material from II and III are extensively used. It includes an annual all-star ensemble cast based on the characters from the same games in the Soul universe.
Story
Set in the modern future, in the year 2035 A.D. , showing the backstory of Siegfried and how he was possessed by Soul Edge , making him being transformed into Nightmare . Other characters, like Ivy , Tira , Kilik , Voldo , Astaroth , Taki , etc. also have centain central storylines within the film.
Cast
Production
Development
In late 2010,
Anthony Marsh, Jr
and
Austin Marsh
began developing a film based on Namco's Soulcalibur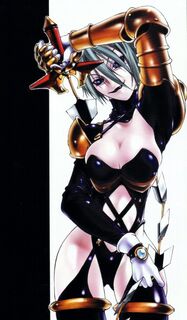 video game franchise. The Marsh bros. collaborated with each other on other fan-films before while and when Marsh began making an agreement with Paramount Pictures to distribute most of his productions under the Marsh Bros. Productions, Inc. banner. The brothers began working out a story that might entice and appear to fans of the games. At a young youth, the two recalled the franchise when they played
Soul Edge (game)
(for the
PlayStation
some year ago in the past until 2005 and beyond they began getting much interested with the Soul Calibur series much quickly.
What got Marsh, Jr. to get a little familiar with the series (mainly the characters in the soul series), in 2005, he watched G4TV's Video Game Vixens (which lasted for 5 episodes) and saw the character Ivy as one of the soon-to-be chosen vixens of video games (competing with few of the girls of Tecmo's Dead or Alive series). From 2008 to 2010, they received Soulcalibur II and Soulcalibur III for the PlayStation 2 and after playing the two games, Marsh began to develop the film "just to see if the fans will like it [or not]." Marsh also said via his IGN blog page "Let's face it, as far as most video game based-movies go, they always have an alful story or they just plain suck bad. At least Lara Croft: Tomb Raider (starring Angelina Jolie) was the most successful movie based on a video game while all the others like Resident Evil, Max Payne, and Silent Hill are just plain terrible. I promise the fans (who loves the Soul series) that I will not let the Soulcalibur movie go to waste." Marsh's favorite character is Ivy and when casting was not finalized yet, he was considering either top A-list to B-list actresses like Angelina Jolie, Milla Jovovich, Tricia Helfer, or Sienna Miller to play it. His last two choices were Jenny McCarthy and Jennifer Bini-Taylor. He originally was going to have the film mostly focusing on Ivy and her half-dead father Cervantes but screenwriter Alvin Sargent felt it would make the film "too complex" just having those two telling a story worth the film's drama. Siegfried is one of the original characters that appeared in the series since Soul Blade but Sargent wanted his story much darker in the movie than it was in the games.
Project Soul was unaware with the announcement of Marsh making a Soulcalibur movie being made. The project was this close to be made since 2001 but it was canceled causing Namco to come back and may do it over sometime in the near future. Lorenzo di Bonaventura claims the Soulcalibur movie his fourth film he ever collaborated with Marsh on. In early 2011, Paramount required the motion picture rights to the games and Saban Brands, inc. (owned by Haim Saban, the creator of Saban's long-running Power Rangers franchise) began planning on adapting resent footages of the games for the project with Namco requisiting the movie rights for the film after a unproduced version of the film was canceled in 2001. Marsh is of course a fan of the games and he plans to make it much successful out of all of video game-based movies. The movie may find the momentum based on the success of the 2007 live-action Tekken movie. He was inspired to make the film much epic as it can be and critics compared the concept of Marsh's Soulcalibur movie to that of the 2007 film of Beowulf , which had actors in motion capture and CGI, so the actors in Soulcalibur: Shattered Destiny will be altered on screen using CGI and motion capture with live-action footage, though their animated counterparts may bear much resemblances of themselves (except for Astaroth and Abyss , who those two will only be animated). Namco seemed to like Marsh's idea but he felt if the fans who played the games over the years would not like what he has done to the movie.
Casting
Marsh's Soulcalibur movie features a much anticipated annual all-star ensemble cast of actors based on the various characters of the franchise.
Filming, Effects, and Animation
During production, the film will take place at various greenscreen rooms at each Sony Pictures backlots (for use of chomia key) and the actors are set for motion capture process. Visual effects supervisor chosen for Soulcalibur: Shattered Destiny is Jeff Farrar.
Footage use
The movie features adapted footages from Soulcalibur II, Soulcalibur III and Soulcalibur IV.
Marketing and Promotion
Bandai will release a line of action figures in early May 2012 and the toys are at a 7 1/2 inch scale but the toys will not feature the actors' faces scanned to them. Marvel Comics is doing a graphic novel adaptation.
Production Credits
Directed by
Anthony Marsh, Jr and Austin Marsh
Produced by
Lorenzo di Bonaventura, Don Murphy, Sam Hamm, Bob Duscay, Naota Tusuki, Ryoma Hanabasho
Written by

Screenplay:

Alvin Sargent, Paul Lovett, Paul Wernick, Rhett Weese, Stuart Beattie

Story:

Anthony Marsh, Jr.

Based on
Namco's Soul series.
Music by

Namco Sound Team

The West Australian Symphony Orchestra

and The West Sinfonia Ward Orchard London Symphony Orchestra

Studio

Saban Brands, inc.

Project Soul

Namco/Bandai

Spyglass Entertainment

Marsh Bros. Productions, inc.

di Bonaventura Pictures

Distributor
Paramount Pictures
Release
TBA
Running time
149-150 min.
Country
United States
Language
English, Japanese, Chinese, Celtic
Budget
$100-$120 million
Ad blocker interference detected!
Wikia is a free-to-use site that makes money from advertising. We have a modified experience for viewers using ad blockers

Wikia is not accessible if you've made further modifications. Remove the custom ad blocker rule(s) and the page will load as expected.