Graf Dumas is virtually turned into Nightmare The Soul Edge's wielder he personally tricked Patroklos to kill the humans of the city but, said they were the malfested. Patroklos soon realises that Graf Dumas is Nightmare then soon tries to fight Graf Dumas but, Pyrrah instead takes the honor to slaying him.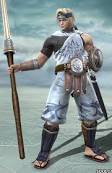 Ad blocker interference detected!
Wikia is a free-to-use site that makes money from advertising. We have a modified experience for viewers using ad blockers

Wikia is not accessible if you've made further modifications. Remove the custom ad blocker rule(s) and the page will load as expected.