Okey so this morning I decided to start a little project. you see I let my character Runa buy a ship so she can be an awesome captain B|
Anyhow I really wanted to give her a crew too but making the whole crew myself sounds just so boring. so I decided to make a small project letting other people create SC fan-charactersto join my crew. so what you say? anyone interested?. Here is a link for futher information, please read before leaving a comment. http://manga-denise.deviantart.com/journal/In-search-for-a-Crew-PLEASE-BECOME-MY-NEW-CREW-416830612  Also it would be great if you had a account on Deviantart.
OH AND GUYS!
I MADE A THING :D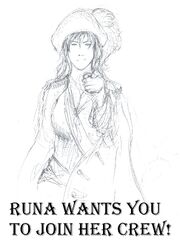 Ad blocker interference detected!
Wikia is a free-to-use site that makes money from advertising. We have a modified experience for viewers using ad blockers

Wikia is not accessible if you've made further modifications. Remove the custom ad blocker rule(s) and the page will load as expected.