Ukon
Talk

0
2,976pages on
this wiki
A Manji Clan member under Yoshimitsu.
He makes his first appearance in Soulcalibur, in Yoshimitsu's ending. Ukon later appears as a minor playable character in Soulcalibur IV's story mode, appearing when playing as Yoshimitsu, or fighting against him and his team.
Ukon appears holding a sword or a dagger in his initial appearance, but in Soulcalibur IV, he uses the style of Tira.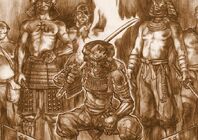 Ukon means left. And also means the left side of a nunchaku.
When his face is revealed, it seems that he has black medium long hair. The best use to break his mask would be a custom character using Raphael's style (every custom character has different storylines). Alternatively, the player could play Tira's Story Mode, and then switching to Solnhofen during the appropriate battle. Tira will always fight Yoshimitsu, and his allies, and Solnhofen fights using Raphael's style.
Ukon uses Ixion, a weapon that can also be equipped to Tira.
He looks like he can be made in character creation, but he has an unavailable tatoo on his chest.
"You can bet your soul on it."
"No way!"
"Useless!"
"You're gonna regret this."