[
Edit the Featured Article template
]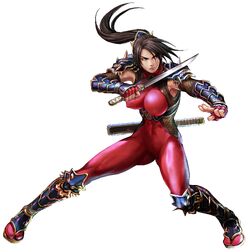 Taki (タキ, also written as 多喜) is a fictional character designed for the Soul series of fighting games, making her debut in the first game of the series, Soul Blade. She has thus far appeared in all the following games with the exception of Soulcalibur V, in which she was replaced by her student Natsu, who is now searching for her master.
Taki is the female ninja in the games, and as such is a character known for her agility and speed on both movements and strikes. She is also recognized for her many acrobatic movements, exaggerations of ninjutsu skills, and the use of magic-based unblockable attacks.
Taki is a Japanese orphan raised in the Fu-Ma Ninja clan, under the care of its headmaster, Toki. She is a capable fighter in both unarmed and armed combat, as well as an accomplished demon huntress, spy and blacksmith.
Recently featured: To be added.
Note: This is a placeholder Featured Article. The first Featured Article will be voted for soon.
---
Vote for the next Featured Article · Past featured articles
Soulcalibur Wiki Community
Soulcalibur Wiki is maintained and grown by a dedicated community of editors. The Community Portal has been set up to connect users, give editing help to new editors, and develop a strong community for the wiki. There are many great ways to become a part of the wiki community.
The Forums are where the wiki discusses broad changes to articles, wiki policies and practices, and game-related topics. There is also a help forum for wiki or game help, and forums for off-topic chatting, game theories, and more!
We have a large and growing fanon namespace, where many authors create great fanon. All registered users are allowed to create fanon articles! Just read the Rules of Fanon first and follow the instructions!
We have many types of Featured Content, including featured article, featured media, featured author, and more! Any reader or editor can nominate new content to be featured, vote on other nominees, and help decide what content is featured on the Main Page.
---
We hope you'll take some time to see all that the Soulcalibur Wiki Community has to offer, and
join us
as we work to build a comprehensive
Soulcalibur
encyclopedia!
Helping Out
The Soulcalibur Wiki is a community that aims to create the best resource for the Soul series, a series of fighting games developed by Namco Bandai.
To write a new article, just enter the title in the box below. If you are new to wikis, check out the tutorial.
Adding content
Note
The featured article is a placeholder and will be changed. The colour scheme and layout may also be changed.
Join the discussion here.