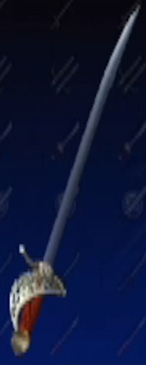 Schweizer
Wielder
Raphael
Weapon type
Rapier
For sale in
Chapter 6, Chapter 7, Chapter 9, Subchapter 3
Price
2,200 Gold
The Schweizer is a sword used by the Roman Empire with a point modified for piercing. It is considered to be a type of bastard sword, but it actually more closely resembles a saber. This sword is a work of master craftsmanship that looks as if it could cut apart anything with a single full-strength blow.
Trivia
"Schweizer" means "Swiss" (as in People, plural) or "beadle" in German.
This later became one of Amy's weapons, renamed Schweitzer.