Sakon
Talk

0
2,976pages on
this wiki
A Manji Clan member under Yoshimitsu.
He makes his first appearance in Soulcalibur, in Yoshimitsu's ending. Sakon later appears as a minor playable character in Soulcalibur IV's story mode, appearing when playing as Yoshimitsu, or fighting against him and his team.
Sakon appears holding a sword or a dagger in his initial appearance, but in Soulcalibur IV, he uses the style of Mitsurugi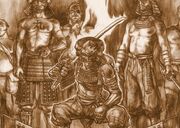 Sakon, means right. And also means the right side of a nunchaku.
Sakon is one of Yoshimitsu's berserk army during the war.
Sakon has medium long hair, which can be seen during equipment destruction.