A Manji Clan member under Yoshimitsu's command.
He and Ukon act as Yoshimitu's confidants. Due to Yoshimitsu the Second being raised by their former master, he and Ukon see him as a younger brother.
He makes his first appearance in Soulcalibur, in Yoshimitsu's ending. Sakon later appears as a minor playable character in Soulcalibur IV's story mode,alongside Ukon, appearing when playing as Yoshimitsu, or fighting against him and his team.
Quotes
Soulcalibur IV: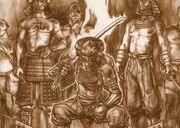 Trivia
Sakon, means left. And also means the left side of a nunchaku.
Sakon is one of Yoshimitsu's berserk army during the war.
Sakon has medium long hair, which can be seen during equipment destruction.
Sakon uses Mitsurugi's fighting style.
Sakon appears holding a sword or a dagger in his initial appearance, but in Soulcalibur IV, he uses a sword.
Series appearance
Soulcalibur IV.
Gallery
CREATE
NAME SAKON
STYLE MITSURUGI
PITCH -10
HAIR LONG STRAIGHT (7,1,32)
PHYSIQUE -50 MUSCULARLY +40
SKIN 3,2,1
DEMONIC MASK HEAD 3,1,32 FOR ALL
PROTECTIVE TATTOO 3,1,32 FOR ALL
VAGRANT'S KOTE COLOR FOR 1.2 AND 3 IS 7,1,31 COLOR 4 IS 6,1,2
KUSAZURI PANTS 7,1,31 AND COLOR 2 9.63,11
VAGRANT'S WARAJI 6,63,32
Ad blocker interference detected!
Wikia is a free-to-use site that makes money from advertising. We have a modified experience for viewers using ad blockers

Wikia is not accessible if you've made further modifications. Remove the custom ad blocker rule(s) and the page will load as expected.