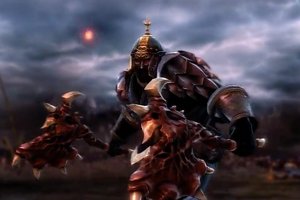 Odor is a NPC character in Soulcalibur V. He is a soldier led by a Nightmare, and he fights with Aeon Calcos's fighting style. His weapon is the Afterglow of Obsession.
Quotes
You will die before you reach our lord. - spoken in story mode to Z.W.EI.
Damn you!
I'm on!
You're dead!
Is that... all?
This fight will be a pleasure.
Show me what you got.
Trivia
Odor appears in Episode 18.
He apears to be the leader of the group in which he appears fighting, as he is the only one to speak to Z.W.E.I. in Episode 18.
Creation
Appearance
Face: N/A
Hair: N/A
Voice: Main Bad Guy
Pitch: +0
Tone: +0
Malfestation Voice: Serious
Equipment