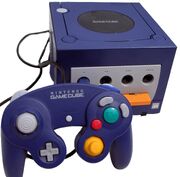 The Nintendo GameCube (commonly abbreviated GCN) is Nintendo's fourth home video game console and is part of the sixth generation era. The hardware system is the most compact and second-least expensive after Sega's Dreamcast, of the sixth generation era consoles. It is the successor to the Nintendo 64 and the predecessor of the Wii. The console was released on September 14, 2001 in Japan, November 18, 2001 in North America, May 3, 2002 in Europe, and May 17, 2002 in Australia. As of December 31, 2007, the GameCube has sold 21.72 million units worldwide; the majority of these units being sold in the Americas.[1]
Soul titles on GameCube
References
External links
Ad blocker interference detected!
Wikia is a free-to-use site that makes money from advertising. We have a modified experience for viewers using ad blockers

Wikia is not accessible if you've made further modifications. Remove the custom ad blocker rule(s) and the page will load as expected.