A soldier from Grandall, who is assigned to the Cadet's unit while he was protecting the border. When he is introduced (chronicle 3, Live by the Sword), he aids in defending the boarder with his new commanding officer and unit. He's a level-headed man with a calmed personality. He accompanied the Cadet during all the war against Dalkia, and after the fall of that kingdom, he's reassigned to another unit.
A year later he's one of the soldiers who refuses fighting against the Arthias, and is controlled using a fragment of Soul Edge and is forced to fight. Once he's freed, he joins the Arthias against Strife.
https://www.youtube.com/watch?v=UYwHYWKY5es#t=11m15s
Weapons
He uses the weapons common to the Samurai style - Katana.
Create a Soul formula SCIII
Name:Meiga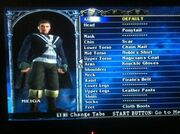 Sex:Male
Job:Samurai
Weapon:Katana(4)
Alignment:Good/Light
Face:03
Eyebrows:11,01
Lips:04,18
Eyes:33,27
Skin:04,18
Underwear:01,18
Voice:Young Man 1
All:--
Head:--
Hair:Ponytail(11,01)(01,12)
Mask:--
Chin:Scar(03,18)
Lower Torso:Chain Mail(11,01)
Mid Torso:Noble's Shirt(01,18)
Upper Torso:Magician's Coat(24,27)(29,01)
Arms:Knuckle Gloves(18,02)
Shoulders:--
Neck:--
Waist:Pirate's Belt(26,10)
Lower Legs:--
Upper Legs:Leather Belt(11,01)
Shins:--
Socks:--
Feet:Cloth Boots(04,25)
Ad blocker interference detected!
Wikia is a free-to-use site that makes money from advertising. We have a modified experience for viewers using ad blockers

Wikia is not accessible if you've made further modifications. Remove the custom ad blocker rule(s) and the page will load as expected.