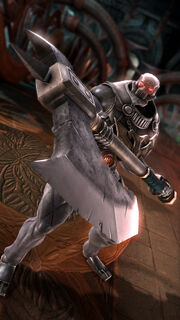 Mechastaroth is a variant of the mass produced Astaroth units created by Fygul Cestemus. Mechastaroth appears as Astaroth's alternate outfit in Soulcalibur V.
Mechastaroth is a mecha variant of Astaroth, however he is not 100% mecha.
When using this version of Astaroth, his voice changes to sound more mechanical.
Trivia
Mechastaroth's name and information were revealed in the New Legends of Project Soul book.
Gallery