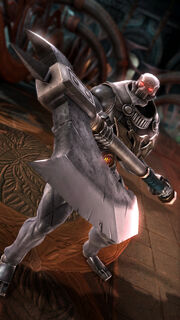 Mechastaroth is a variant of the mass produced Astaroth units created by Fygul Cestemus. Mechastaroth appears as Astaroth's alternate outfit in Soulcalibur V.
Mechastaroth is a mecha variant of Astaroth, however he is not 100% mecha.
When using this version of Astaroth, his voice changes to sound more mechanical.
Trivia
Mechastaroth's name and information were revealed in the New Legends of Project Soul book.
Gallery
Ad blocker interference detected!
Wikia is a free-to-use site that makes money from advertising. We have a modified experience for viewers using ad blockers

Wikia is not accessible if you've made further modifications. Remove the custom ad blocker rule(s) and the page will load as expected.