Ad blocker interference detected!
Wikia is a free-to-use site that makes money from advertising. We have a modified experience for viewers using ad blockers

Wikia is not accessible if you've made further modifications. Remove the custom ad blocker rule(s) and the page will load as expected.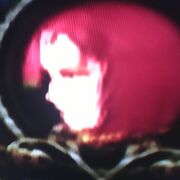 A hot-headed and impulsive soldier of
the Klessirpemdo
that used the Lance,
Blazecleaver. Her nickname was the "Fires of Hell".
Stage
Old Toledo - Burning Gallery (Cassandra's stage)
Just like her nickname, her stage is supposed to be covered by fire, also while fighting her, there is an effect where all of her attack is guard break/unblockable, making the player can't guard her attack.
Create a Soul formula SCIII
Name:Lupi
Sex:Female
Job:Knight
Weapon:Lance(3)
Alignment:Evil/Dark
True Alignment:--
Face:06
Eyebrows:02,23
Lips:04,19
Eyes:01,27
Skin:04,18
Underwear:01,18
Voice:Girl 1
True Voice:--
All:--
Head:--
Hair:Medium Length(02,24)
Mask:--
Chin:--
Lower Torso:-- Whatever gives you Evil/Dark
Mid Torso:Noble's Jacket(01,27)
Upper Torso:--
Arms:Leather Gloves(34,17)
Shoulders:Noble's Shoulders(11,01)(05,04)
Neck:--
Waist:Spy Belt(36,19)
Lower Legs:Barbarian Underwear*
Upper Legs:Leather Hose(26,25)
Shins:Ashigaru Shin Guards*
Socks:--
Feet:Heavy Boots(01,24)