Ad blocker interference detected!
Wikia is a free-to-use site that makes money from advertising. We have a modified experience for viewers using ad blockers

Wikia is not accessible if you've made further modifications. Remove the custom ad blocker rule(s) and the page will load as expected.
Luca is a character from Soulcalibur III The Chronicles of the Sword mode.
Biography
Soldier under Abelia's command, and another member of the Cadet's Anti-Rebellion force against Girardot. He, after Girardot's defeat, decided to follow the Cadet into rebellion. Friend of Tina and Yuilin and member of the Anti-Rebellion force from Abelia's unit. He was ordered to follow the main character's orders, so after Girardot's death, he followed into rebellion against Strife.
He is a Thief whose weapon options are limited to the Dagger discipline.
Create a Soul formula SCIII
Name:Luca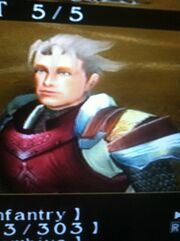 Sex:Male
Job:Thief
Weapon:Dagger(1)
Alignment:Good/Light
Face:06
Eyebrows:05,07
Lips:02,16
Eyes:20,25
Skin:04,18
Underwear:01,18
Voice:Young Man 1

All:--
Head:--
Hair:Styled Back(05,07)
Mask:--
Chin:--
Lower Torso:Chain Mail(05,01)
Mid Torso:Sleeveless Robe(10,10)
Upper Torso:Lord's Armor(36,23)
Arms:Iron Braces(36,07)
Shoulders:Shoulder Armor(02,25)
Neck:--
Waist:Thief's Belt(19,25)
Lower Legs:--
Upper Legs:Leather Pants(06,25)
Shins:--
Socks:--
Feet:Protective Greaves(36,24)