Ad blocker interference detected!
Wikia is a free-to-use site that makes money from advertising. We have a modified experience for viewers using ad blockers

Wikia is not accessible if you've made further modifications. Remove the custom ad blocker rule(s) and the page will load as expected.
Soldier of the Halteese Republic, he was with Ailian and Kanon and was one of the few survivors of Maletta's attack at Epistema. He tried to fended off his attacker until the Cadet decided to save them of his own accord. Upon being rescued, he joined their ranks as a show of gratitude.
A year later he formed part of Aeolos' unit alongside the Cadet's old soldiers, and he is another one of the victims of Soul Edge's control, forced to fight the Cadet. Like the others, after being freed from the curse, he rejoins the group.
Weapons
He uses the weapons common to the Pirate style - Rapier
Create a Soul formula SCIII
Name:Leraje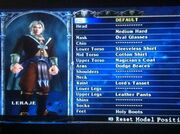 Sex:Male
Job:Pirate
Weapon:Rapier(3)
Alignment:Good/Light
Face:04
Eyebrows:09,04
Lips:04,16
Eyes:16,27
Skin:04,17
Underwear:01,18
Voice:Young Man 2
All:--
Head:--
Hair:Medium Hard(09,04)
Mask:Oval Glasses(11,13)(10,13)
Chin:--
Lower Torso:Sleeveless Shirt(25,02)
Mid Torso:Cotton Shirt(06,17)
Upper Torso:Magician's Coat(02,27)(20,26)
Arms:Dodge Braces(13,04)
Shoulders:--
Neck:--
Waist:Lord's Tasset(26,07)
Lower Legs:--
Upper Legs:Leather Pants(05,24)
Shins:--
Socks:--
Feet:Holy Boots(04,27)