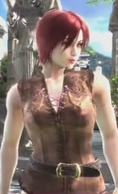 The Leather Tunic is a generic leather tunic with a slit V-neck collar and a belt, available for female characters in Create-A-Soul in Soulcalibur III and Character Creation in Soulcalibur IV and Soulcalibur V.
Soulcalibur IV
This tunic raises Power by 35, Defense by 10, and HP by 20. It is unlocked at the start of the game.
Soulcalibur V
The Leather Tunic is available at the start of the game.