Ad blocker interference detected!
Wikia is a free-to-use site that makes money from advertising. We have a modified experience for viewers using ad blockers

Wikia is not accessible if you've made further modifications. Remove the custom ad blocker rule(s) and the page will load as expected.
Kanon is a younger officer of the Halteese Republic and one of the few survivors of Maletta's assault on Epistema. She fought off the intruders until the Cadet saved her. In response, she joined the Grandall Empire alongside her friends.
A year later, as a part of Aeolos' unit, she was one of the brainwashed aimed to kill the Cadet. Once freed from the shard of Soul Edge's possession, she rejoined the Cadet's side.
Weapons
She uses the weapon common to the Gladiator style - Grieve Edge - as her starter weapon (which is due to her first being unlocked). However, as to show a personal choice, when she battles the cadet, her weapon is the Cailleach Bheur.
Create a Soul formula SCIII
Name:Kanon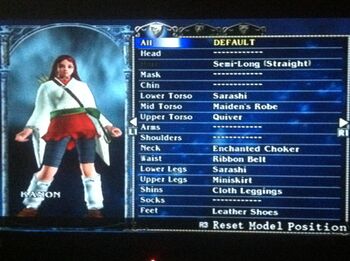 Sex:Female
Job:Gladiator
Weapon:Grieve Edge(4)
Alignment:Good/Light
Face:03
Eyebrows:02,23
Lips:02,18
Eyes:15,26
Skin:03,18
Underwear:01,18
Voice:Girl 2
All:--
Head:--
Hair:Semi-Long [Straight](02,23)
Mask:--
Chin:--
Lower Torso:Sarashi(03,13)
Mid Torso:Maiden's Robe(11,13)
Upper Torso:Quiver(04,23)
Arms:--
Shoulders:--
Neck:Enchanted Choker(27,01)(36,20)
Waist:Ribbon Belt(18,25)
Lower Legs:Sarashi(19,27)
Upper Legs:Miniskirt(02,19)
Shins:Cloth Leggings(01,14)
Socks:--
Feet:Leather Shoes(04,24)