Fu-Ma No Sato: Mechanical Spider
Background music
Faster Than a Howling Wind
Home to
Natsu (SCV)
"The history between the Fu-Ma clan and demons adorns the walls."
— Narrator
This stage is set in an exquisitely decorated Japanese temple, belonging to the Fu-Ma clan, which leaves a single ring-out opportunity at one side of the room. Also, there is a gigantic mechanical spider in the background. As the battle progresses, the floor slowly slides towards the golden statue and gradually reduces the ring's size.
The walls are covered with art depicting the seemingly endless struggle between the Fu-Ma clan and demons. The large mechanical spider is the mechanism moving all the machinery in the arena, powered by a fire-based system. 
The Tang Villa was long dominated by the spider-demon, until a group of ninjas sacrificed their lives to seal the creature. The statues within the shrine are reminiscent of Taki's stage from Soulcalibur.
Trivia
The large statue in the room is a depiction of the demon-possessed Toki.
The symbol which appears on Natsu can be seen on the ceiling.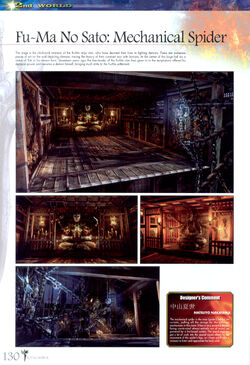 Ad blocker interference detected!
Wikia is a free-to-use site that makes money from advertising. We have a modified experience for viewers using ad blockers

Wikia is not accessible if you've made further modifications. Remove the custom ad blocker rule(s) and the page will load as expected.