Fu-Ma Ninja clan
Talk

0
2,975pages on
this wiki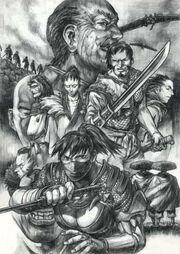 For the generic character, see Fu-Ma Ninja.
The Fu-Ma Ninja (封魔忍軍 Fū-Ma Nin-gun) is a clan that was once lead by Toki (Taki's former master), and beforehand, alongside Hachibei. Fu-Ma Ninja are capable fighters in both unarmed and armed combat, as well as demon hunters. The Fu-Ma Ninja's role in most iterations of the Soul franchise was to capture Taki and bring her back alive.
In Soulcalibur V, Natsu's profile states that Chie, Hachibei's daughter, is the new leader of the Fu-Ma Ninja clan.