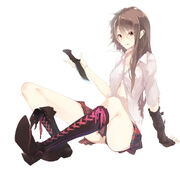 M.A.Y.A - (Real Name - Rin Setsuna - りん・刹那) - Maya is fancharacter form Soul Calibur III. She's older Sister of S.A.Y.A.

Birthplace: Unknow (Possibly Japan)
Age: 17
Height: 170cm
Weight: 67kg
Blood type: AB
Weapon: Sword&Gun
Weapon name: Dark Edge
Fighting style: Memories of Soul Edge
Appears in: Soul Calibur III
Quotes
Welcome! My Name is S.A.Y.A And I must destroy you
Little and Stupid Child...hahah...ITS TIME TO DIE!
My dear sister... Please just stop it..
Time to Play...Here I Come..
Relationships
Sister of S.A.Y.A (Ren Setsuna)
Belongs to organization Called "Gunsliger Girls"
Weapons
Soul Edge (Female)
Dark Edge
Soul Edge&Gun
Gun&Faust
Stages
Hall of the Warrior God
Tower of Remembrance - Ancient Gate