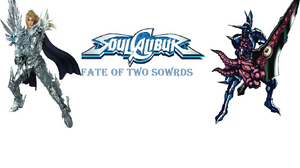 This article is written by me Devil.Jin.Kazama, you can add a talk page critizacing the article (good or bad), Please don't edit this.
History
Im still thinking in a good one.
Characters
Returning characters
Siegfried
Nightmare
Tira
Sophitia
Patroklos
Pyrrha
Hilde
Z.W.E.I.
Cassandra
Ivy
Leixia
Kilik
Aeon Calcos
New Characters
Unknown - he is a knight from the England empire that uses Soul Edge as Main Weapon
Roger - An swordsman that uses Raphael Move Set
Demise (Final Boss/Unlockable) - The Legend says that for centuries he is the one who will unleashed the chaos in the world.
Guess Characters
Devil Jin (Xbox 360 Version)
Ryu (From Street Fighter Series, Both Versions)
Scorpion (From Mortal Kombat Series, PS3 version)
Bonus Characters
Ashlotte
Ahren
Bepa
Alfa
Arenas
Nightmare's World - Stage Of Nightmare and Tira
Ober-Getzenber Empire - Stage of Siegfried and Hilde
Elysium - Stage of Pyrrha, Patroklos, Sophitia and Cassandra
Wolfman Mountain - Stage of Z.W.E.I./Viola
Valentines Family Residence in England - Stage of Ivy
Gargoley's Perch - Stage of Devil Jin
Scorpion's Lair - Stage of Scorpion
Gouken's Training School - Stage of Ryu
Chinese New Year Eve - Leixia/Kilik
Place of The Cult - Ashlotte