Template:Writer Template:UserGame
STORYLINE
Until the new age of soul was born, there was a two young fencer age 17 called Swordsman and Swordswoman. They been taugh by their Swordsmaster until they passed their trial to begin their new journey. In the last trial, Swordsmaster given them a final test to become the true leader in their new journey, and so Swordsmaster call both of them to fight in front of him. Swordsman and Swordswoman duels with courage.
Characters
Swordsman
Swordswoman
Arcelia(Thief)
Yuxing(Saint)
White Knight
Retsu(Ninja)
Kanzaki(Samurai)
Darvia(Gladiator)
Belmosh(Pirate)
Black Knight
Birthplace:
Unknown
Real Name:
Norman
age:
About 17-19
Blood Type:
A
Job:
Sword Master
Weapon Style:
Chinese Blade
Weapon Name:
Heisheng Jian
Family:
Unknown
Info:
Swordsman was raised and trained under his mentor, Swordsmaster.
Likes:
Janette, Heisheng Jian and use any weapons.
Dislikes:
Snails
Appears in:
Soulcalibur III
Birthplace:Town of Eurydice

Real Name:Janette

age:About 18-21

Blood Type:A(presumed)

Job:Sage

Weapon Style:Chinese Blade

Weapon Name:Heisheng Jian

Family:

-Ricarde, Father(Deceased)

-Donna, Mother(Deceased)

Info:Swordswoman was one of Swordsman's partner. She seldom talk with someone beside Swordsman and Swordsmaster.

Likes: Norman, and Heisheng Jian.

Dislikes: Unfair, and other weapons except Heisheng Jian.

Appears in:Soulcalibur III(CaS)
Birthplace:Spain

Real Name:Itself

age:17-18

Blood Type:B

Job:Thief

Weapon Style:

- Dagger

- Wave Sword

- Sickle

- Soul of Yun-seong

- Soul of Tira

Weapon Name:Cheng Ying

Family:

-Belmosh, Father(Lost)

-Julis, Mother(Deceased)

-Lambert, Brother(Lost)

Info:Arcelia search for her lost father since she became a Leader of her Pirate.

Likes:Norman, adventurer and quest.

Dislike:Boring, and Janette.

Appears in:Soulcalibur III(CaS)
Birthplace:Guangzhou(present-day China)

Real Name:Wong Yuxing

age:17-19

Blood Type:O

Job:Saint

Weapon Style:

- Steel Fan

Weapon Name:Kamaitachi

Family:

Luxiong, Brother(Present)

Hualin, Friend(Present)

Info:Wong Yuxing is known as the General's daughter from her dynasty. She never lose to any fighter beside Arcelia.

Appears in:Soulcalibur III(CaS)
Birthplace:German

Real Name:Luther Alexia

age:20-25

Blood Type:A

Job:Knight

Weapon Style:

- Lance

- Soul of Siegfried

- Soul of Raphael

Weapon Name:Dreadnought, Faust, Estoc

Family:

Gregward, Father(Deceased)

Zerra, Mother(Deceased)

Ziegler, Step-Brother(Present)

Info:Luther was the "great white knight" for declared as the royal of his kingdom. He was planned to search and kill his own step-brother for killed his own family.

Appears in:Soulcalibur III(CaS)
Birthplace:Japan

Real Name:Retsu Oregawa

age:17-20

Blood Type:AB

Job:Ninja

Weapon Style:

- Kunai

- Katana & Shuriken

Weapon Name:Kunai, Onimaro & Tobikage

Family:

-Unknown

-Members of Fu-Ma Ninja Clan

Info:Retsu often communicate with his own Fu-Ma Ninja Clan. He only take his orders from his leader and close-friend to Fu-Ma Ninja in green outfit(Katana & Shuriken)

Appears in:Soulcalibur III(CaS)
Birthplace:Japan

Real Name:Kanzaki Kazemaru

age:20-22

Blood Type:B

Job:Samurai

Weapon Style:

- Katana

- Soul of Mitsurugi

Weapon Name:Shiranui, Masamune

Family:

-Unknown

-Members of Oni Samurai Clan

Info:Kanzaki was a Samurai that work as a bounty hunter. He only seeks for the Soul that can be rewarded if it could be captured either dead or alive.

Appears in:Soulcalibur III(CaS)
Birthplace:France

Real Name:Darvia Le Baron

age:28-30

Blood Type:AB

Job:Gladiator

Weapon Style:

- Soul of Rock

Weapon Name:Juggernaut

Family:

-Unknown

-Left Orphaned

Info:Darvia is one of the strongest warrior that join under the Troop of Black Knight.

Appears in:Soulcalibur III(CaS)
Birthplace:Spain

Real Name:Itself

age:55-62

Blood Type:B

Job:Pirate

Weapon Style:

- Soul of Cervantes

Weapon Name:Styx

Family:

-Arcelia, Daughter(Present)

-Julis, Wife(Deceased)

-Lambert, Son(Lost)

Info:Belmosh, the father of Arcelia. Belmosh is a pirate that seek for the Weapon of Damnation by abandoned his own family.

Appears in:Soulcalibur III(CaS)
Birthplace:German

Real Name:Ziegler Alexia

age:20-25

Blood Type:A

Job:Knight

Weapon Style:

- Iron Sword

- Soul of Nightmare

Weapon Name:Soul Edge

Family:

Gregward, Father(Deceased)

Ruelia, Mother(Deceased)

Luther, Step-Brother(Present)

Info:Ziegler was the enemy to his step brother, Luther. He lost his control after he found the Soul Edge from the Lost Cathedral.

Appears in:Soulcalibur III(CaS)
Birthplace:Town of Eurydice

Real Name:Gernard

age:38-42

Blood Type:A

Job:Sword Master

Weapon Style:

- Chinese Sword

Weapon Name:Falchion

Family:

-Unknown

Info:Swordsmaster, the master of the Martial Arts Sword Style.

Appears in:Soulcalibur III(CaS)
Birthplace:Guangzhou

Real Name:Wong Luxiong

age:32-38

Blood Type:O

Job:Monk

Weapon Style:

- Nunchaku

Weapon Name:Falcon

Family:

Yuxing, Sister(Present)

Hualin, Friend(Present)

Info:Luxiong was Yuxing's brother, his sister Yuxing was actually assassinated by Ziegler until Luxiong was mind control.

Appears in:Soulcalibur III(CaS)
Birthplace: Monggohol

Real Name:Garick

age:20-22

Blood Type:A

Job:Samurai

Weapon Style:

- Sickle

Weapon Name:Mizouchi

Family:

-Zerra, Sister(Present)

Info:Garick usually hunt an outlanders with his sister, Zerra.

Appears in:Soulcalibur III(CaS)
Birthplace:Unknown

Real Name:Gregson Tim

age:31-36

Blood Type:AB

Job:Sword Master

Weapon Style:

- Chinese Blade

Weapon Name:Heisheng Jian

Family:

-Unknown

Info:Swordsmith doesn't battle with anyone. He only interest in weapon dealer and repair for rewards.

Appears in:Soulcalibur III(CaS)
Birthplace:France

Real Name:Charles Voltraute

age:22-28

Blood Type:O

Job:Knight

Weapon Style:

- Rapier

Weapon Name:Antler

Family:

-Unknown

Info:Charles was a commander who controls the group of Footsoldier. Charles was also serve the order of General.

Appears in:Soulcalibur III(CaS)
Birthplace:Unknown

Real Name:Legend

Age:Over 600 Years

Blood Type:None

Job:Saint

Weapon Style:

- Staff

Weapon Name:Duel Rod

Family:

-Unknown

Info:Legend was the protector that under Olcadan's soul. He attack on a soul who invade the treasure.

Appears in:Soulcalibur III(CaS)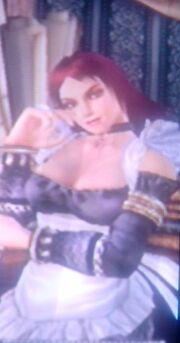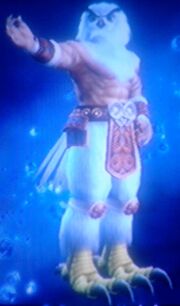 Chapters
Act.1
Swordsman vs Swordswoman
Story:Swordsmaster's student prepare for their last trial.
Stage:Proving Grounds
Mission Complete:None
Success Story:Swordsmaster declare Swordsman to become a leader in his journey.
Act.2

Swordswoman vs Arcelia
Story:Swordsman was trapped while Swordswoman faces Arcelia in the battle.
Stage:Indian Port
Mission Complete:Dagger
Success Story:Swordsman was release and they decide to join Arcelia for the quest of Ultimate Weapon. Arcelia gave her dagger to Swordsman as a gift.
Act.3

Arcelia vs Yuxing
Story:Swordsman and Swordswoman was caught by Yuxing's guard, and Arcelia must face her challenge.
Stage:Lotus Garden
Mission Complete:Steel Fan
Success Story:Arcelia won her battle to release Swordsman and Swordswoman. Yuxing left her Steel Fan on the ground and Swordsman took it away.
Act.4

Swordsman vs Retsu
Story:Swordswoman and Arcelia was captured by the Fu-Ma Ninja's, only Swordsman must face his challenge.
Stage:Underground Buddhist Sanctum
Mission Complete:Kunai
Success Story:Swordsman defeat Retsu and they were released. Retsu's Kunai was left to Swordsman.
Act.5

Kanzaki vs Retsu
Story:Kanzaki found Fu-Ma Ninja and his mission is to capture Retsu alive to collect his reward.
Stage:Jurakudai Villa
Mission Complete:Katana & Shuriken
Success Story:Retsu was captured and left his weapon in the Villa. Later, Swordsman found Katana and Shuriken that was abandonned.
Act.6

Swordswoman vs Kanzaki
Story:Swordsman found Retsu was captured and they sneak in the ship. Swordsman and Arcelia duels on the soldiers while Swordswoman take her challenge on Kanzaki.
Stage:Battle in the Strait
Mission Complete:Katana
Success Story:Kanzaki was felled in the sea, Retsu was saved and Kanzaki's katana was left and taken by Swordswoman passed on Swordsman.
Act.7

Swordsman vs White Knight
Story:While step in the Ostrheinsburg Castle, Swordsman felled into a trap while Swordswoman and Arcelia was left behind. Suddenly, Swordsman fell on and float. A mysterious White Knight appears and suddenly attack.
Stage:Ostrheinsburg Castle - Battlement
Mission Complete:Heavy Lance
Success Story:White Knight was drowned into the river and hold on the board with two hands. Swordsman help him and the White Knight return him to his friend. Later, Swordsman received the Heavy Lance from the White Knight.
Act.8

Swordsman vs Darvia
Story: White Knight's Castle was under attack. Swordsman is the only one who must face Darvia the great while the others were against the armada.
Stage:Old Toledo - Burning Gallery
Mission Complete:Swordsman 2nd Outfit
Success Story: Darvia was defeated and he fell of the castle. In the days later, White Knight provide a new outfit to Swordsman for serve their castle.
Act.9

Swordsman vs Belmosh
Story: Arcelia found her father during her pirate ship was underattack, Swordsman challenge him and Arcelia told Swordsman not to kill his father.
Stage:Pirate Raid
Mission Complete:Wave Sword
Success Story: Belmosh weapon was tossed away, Arcelia meet her father in awhile and the whole ship was suddenly sink in heavy rain.
Act.10

Swordsman vs Lizardman
Story: While Swordsman was in conscious, he saw a hunter who rescue him from the seaside. Hunter told Swordsman to help him hunt down a creature that can be sold and offered a very good reward for capture alive. And so when they reach at the abandoned town, they were surrounded by the group of Lizardmen and both of them was the one captured alive. When they awake from the long rest hanged by the troops of Lizardmen, they were given a chance to challenge on Lizardman in one-on-one, Lizardmen return the sickle to the hunter. Hunter couldn't bare to fight and he escape from the ring by diving through the waters. A group of Lizardmen scream and dives aim on attack toward Hunter. Swordsman heard Hunter was shout for his death. The only hope for Swordsman, they release him and return the sword to Swordsman, he must win these fight in order to stay alive and Lizardman roar for the duel to begin.
Stage:Kunpaetku Shrine Ruin
Mission Complete:Sword and Shield
Success Story: Lizardman was slayed, Swordsman quickly escape and avoid the bunch of Lizardmen. While Swordsman manage to escape, he found a Sword and Shield from the corpses.
Act.11

Swordsman vs Swordsmaster
Story: Swordsman reach at the Eurydice Shrine to findout the present, but only Swordsmaster waiting alone. He was ready to given a final lesson to his apprientice.
Stage:Eurydice Shrine
Mission Complete:Chinese Sword
Success Story: Swordsman manage to counter every attack from the Swordsmaster. And Swordsmaster ready to return home and resembles his Chinese Sword to his apprientice for the next journey.
Act.12

Swordswoman vs Valeria
Story: Swordswoman was awake from the room of Water Mill Valley. A young girl called Valeria was carried her alive from the beach. Valeria also mentioned that Arcelia was kidnapped. Later, Swordswoman questioned to Valeria that she want to know who the kidnapper was. Valeria prepare her Grieve Edge and she will answer Swordswoman if she won the battle.
Stage:Water Mill Valley
Mission Complete:Grieve Edge
Success Story: Valeria was defeated and she gave the answer to Swordswoman. Valeria help her to look for Arcelia and she gave Swordswoman a pair of Grieve Edge as a souviner.
Act.13

Swordsman vs Bandit
Story: Swordsman landed on the desert area. Suddenly, a Bandit came toward him and took his money away. Swordsman chase him until he draw his weapon.
Stage:Silk Road Ruin
Mission Complete:Sickle
Success Story: Swordsman successfully get back his money. Bandit was flee without his weapon and Swordsman grab the Sickle as a collectable.
Act.14

Swordsman vs Swordsmith
Story:While Swordsman trace on where Bandit was going, Swordsman enter the Shop. A Swordsmith was attacked by the monsters of Were-Owl(Half-Owl,Half-Human) was called Olcadan himself looking for a strong warrior that make Bandit stands behind and runaway. Swordsman tried to runaway, but Olcadan toss with the whip-sword and tied on Swordsman. Swordsman doesn't have a choice but to challenge on Swordsmith that was decided battle by Olcadan.
Stage:Lakeside Coliseum
Mission Complete:Swordsman 3rd Outfit
Success Story:Swordsmith was defeated by ring-out. Olcadan impressed by the courage of Swordsman.
Act.15

Swordsman vs Olcadan
Story:Olcadan draws his weapon and activate the cage that he couldn't let Swordsman escape from the ring. Swordsman spar infront of Olcadan and ready to face on the strong challenger Olcadan.
Stage:Lakeside Coliseum
Mission Complete:Tambourine
Success Story:Swordsman defeat Olcadan by breaking Olcadan's weapons. Olcadan walks away from the ring, he felt regret for loses the match. Meanwhile, Valeria appears in the ring and brought Tambourine to Swordsman as the winner of the contest. Swordswoman and Arcelia saw Swordsman in the ring and they met once again so they could continue their journey.
Act.16

Swordsman vs Commander
Story:While the group of them infiltrate the War Ship, they were detected by the Footsoldier. Swordswoman and Arcelia duels on a group of Footsoldier while Swordsman face alone on Commander.
Stage:Romanian Valley - Castle Siege
Mission Complete:Rapier
Success Story:Commander loses his rapier that was taken by Swordsman and aim with his rapier on the neck of Commander and he commands every Footsoldier to put down the weapon. Swordswoman and Arcelia was saved, and Swordsman call both of them to leave. Later, Swordsman push Commander to the group of Footsoldier and escape along with Swordswoman and Arcelia.
Act.17

Swordsman vs Legend
Story:The group of them found the hidden ancient area while diving through the sea (after they escape from the War Ship). A mysterious Shinning Orb that was placed nearby the ancient sign. Swordsman touch it and it became a human form in white colors holds the Duel Rod and spar infront of Swordsman. Swordsman draws his weapon and challenge on the mysterious Legend.
Stage:Grand Labyrinth
Mission Complete:Staff
Success Story:Legend was defeated and he drop on the ground suddenly turns shinning and disappeared. The only left on the floor was staff. Swordsman grab the staff and kept beside his belt.
Act.18

Swordswoman vs Luxiong
Story:Their final journey were almost there, Arcelia holds the door her two hand and opening wide to the entrance of Lost Cathedral. Arcelia was pierced surprised attack by the swords of damnation "Soul Edge". It was the mysterious Black Knight that betold by the White Knight's Step-Brother became evil and lost the mind of nature. Swordsman was unconscious that paralyzed by the spell that was absorbed by Black Knight. Swordswoman tried to attack Black Knight, but penetrated by the unknown Chinese warrior. He tells swordswoman that he get his favor from the Black Knight to kill Arcelia for taking revenge on his sister "Yuxing" and he reveals the he was her brother, Luxiong. Swordswoman spar and she must defeat Luxiong to save Swordsman from break the spell.
Stage:Lost Cathedral
Mission Complete:Nunchaku
Success Story:Swordswoman pierce Luxiong to death, and Swordsman faces were turned into white and he become sudden death. Black Knight still absorb the power from Swordsman with his Soul Edge. Suddenly, Swordswoman toss her blade toward Black Knight and the blade stab on the shoulder of Black Knight. Black Knight scream for the pain and all the energy that was absorbed from Soul Edge return to Swordsman.
Act.19

Swordsman vs Black Knight
Story:Black Knight pulled out the blade and break it into pieces. Swordsman's condition was back into normal and he is the only person who have the blade to defeat the Evil Black Knight. Swordswoman step behind and watch their final battle.
Stage:Lost Cathedral - Ruin
Mission Complete:Iron Sword
Success Story:Black Knight grunt on the floor, Swordsman hold his blade and it changed into Soul Calibur in shinning effect. Black Knight raise his anger and create a black dimension that halt every living things surround them.
Act.20

Swordsman vs Black Knight
Story:In the world of chaos. Swordswoman was freezed, but Swordsman could move himself by holding the Sword of Soul Calibur. Black Knight's final resort was failed but he will fight Swordsman once again with the Soul of Nightmare.
Stage:Chaos - Spiritual Realm
Mission Complete:Swordsman 4th Outfit
Success Story:Swordsman slayed Black Knight with the Soul Calibur. And Swordsman slice away the Soul Edge that the Black Knight wields, Swordsman instantly pierce through his body. Black Knight look at the eyes of the Swordsman and pulled out the Soul Calibur. Swordsman stands back and the Black Knight couldn't control his body that cause self-destruct. Black Knight is death and turned into mist, the only thing that left behind is the Soul Edge.
Endings
Normal Ending:

Swordsman: This is the Soul Edge...

Swordsman: Now, behold my Ultimate Weapon!

(Swordsman wields the Soul Edge and being manipulated by the force of Soul Edge)

Swordswoman: Swordsman, that Soul Edge is evil...

Sowrdswoman: Oh no, you must be stopped!

(Swordswoman run toward Swordsman and attack)

END
Alternate Ending:

Swordsman: This is the Soul Edge...

Swordsman: And it must be destroyed!

(Swordsman pierce on the eyes of the Soul Edge and it destroyed)

Swordswoman: Prepare yourself!

(Swordswoman attack toward Swordsman)

Swordsman: Quit playing around, it's over...

Swordswoman: But why did you destroy the Soul Edge?

Swordsman: That sword is evil. We must go now.

Swordwoman: Howabout the Sword of Salvation?

Swordsman: Not to worry, it's right by my hand. I obtained the SoulCalibur.

END
Behind the Scene:

Swordsman Versus Swordsmaster

In Eurydice Shrine, Swordsmaster await Swordsman for his final trial. Swordsmaster only wants to test on Swordsman's potential. With Swordsmaster's Falchion, he uses his Chinese Sword fighting style to duel on his apprientice. Although Swordsmaster admire his apprientice's skill, he present for the last day to submit his own sword and the fighting art...

Legend Vanished

Legend only exist once Olcadan was away. The spirit flows around and prepare to attack any invader who visit the ancient area. Legend is the spirit that guarded the tomb of Olcadan whoever try to bypass or steal any of the treasure behind.

Arcelia Killed

Arcelia sacrificed herself during she open the entrance door of Lost Cathedral. Black Knight trap was wise to kill the first person step through should be one of the leaders. Although Arcelia failed to survived, she follows the path of her father where her father was died during the Pirate Raid.
Swordsman's Extra Outfit

2nd Outfit:
3rd Outfit:
4th Outfit:
Swordsman Plot

Swordsman' background is rebooted with him being an abandoned 10 year old child who found his way to the home of Eurydice Town, where he battled the young Swordswoman Janette when she attacked him for stealing food from them. However, the orphan's ability to fight impressed the Swordsmaster as he gave Swordsman his name while bringing him under his wing. Over time, losing to him at first in their sparrings, Swordsman eventually overpowered Swordswoman and gained the favor of the Swordsmaster. Since then, Swordsman has chosen to take a journey with Swordswoman to obtain the Ultimate Weapon.
Ad blocker interference detected!
Wikia is a free-to-use site that makes money from advertising. We have a modified experience for viewers using ad blockers

Wikia is not accessible if you've made further modifications. Remove the custom ad blocker rule(s) and the page will load as expected.