Ad blocker interference detected!
Wikia is a free-to-use site that makes money from advertising. We have a modified experience for viewers using ad blockers

Wikia is not accessible if you've made further modifications. Remove the custom ad blocker rule(s) and the page will load as expected.
Katherine appears "SoulCalibur: Revolt of the gods" as early as in the intro she fought with Hilde in Lion Kingdom Katherine finally defeated and taken in his hands and the two kingdoms!
History
SoulCalibur: Revolt Of The Gods
Katherine Ge Castano
was born on July 27, 1563 and from birth until now it lives at Lion Kingom with her mother, her father and her younger sister Emily. It is legitimate ruler of the Lion Kingdom with the title now Princess which enslaved his parents and sister, and although the guards of the castle knows about her father transferred the castle on behalf of another when she was 2 years old and she can do anything with him and his security!
-
After Katherine goes to the kingdom of heaven to ask for help God Thor to enslave and other kingdoms in the world with him, he refuses to completely helps! Kathrine angry because God gave it goes to the god Loki and asks him the same but before it makes Loki to go into the kingdom of his brother and to destroy it from, Loki gladly accepted and went to Thor. When the biggest battle begins and damage affecting the land battle lasts a few days and then there arises Revolt Of The Gods!
Personality
Katherine is strong and hungry for fame and power princess (Queen) and would ally with anyone who can make it vdinge a top "step" to power over the whole world. She hates many people but hates princess Hilde a former holder of recent German Wolfkrone Kingdom!
Endings
SoulCalibur: Revolt Of The Gods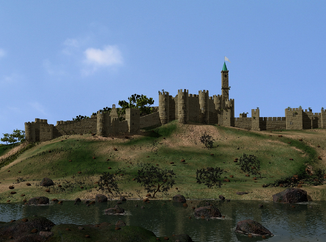 Stage
Lion Kingdom (SCROTG)