Ad blocker interference detected!
Wikia is a free-to-use site that makes money from advertising. We have a modified experience for viewers using ad blockers

Wikia is not accessible if you've made further modifications. Remove the custom ad blocker rule(s) and the page will load as expected.
REDIRECT Template:UserCharacter (Old)
Mei Fei (メイ飛, Mei Fei, Chinese: 梅妃 Pinyin: Méi fēi) is a character in the Soul series of games. She made her first appearance in Soulcalibur IV and has returned for Soulcalibur V.
Create-a-Soul formula SCIV
Name:Mei Fei
Sex:Female
Style:Maxi
Weapon:--
Stage:Sailor's Rest
Alignment:Good
Face:Female Face 2
Eyebrows:3:06,24
Eyes:3:06,24
Skin:1:10,06
Underwear:--
Voice:Female Voice 3 Pitch +25
Head:--
Hair:Long(1:07,20)
Face:--
Upper Body:Longhua Qipao(9:05,13/ 4:09,12)
Lower Body:--
Arms:--
Shoulders:Bong-seon Spaulder(9:05,13/ 4:09,12)
Neck:--
Socks:Huayin Socks(1:09,10/ 9:05,13/ 4;09,12)
Feet:Kungfu Shoes(9:05,13)
Create-a-Soul formula SCV
Name:Mei Fei
Sex:Female
Style:Maxi
Weapon:Soryuju
Stage:Sinking Merchant Ship
Voice:Young Lady Pitch 0 Tone -13
Malfestation Level:None
Face:Female Face 2(1:39,3/ 9:57,0/ 9:02,4)
Hair:Long(4:02,30)
Eyebrows:3:06,24
Eyes:1:02,22
Skin:2:07,2
Underwear:Tanned Leather Armor(9:00,0)
Upper Body:Chinese Dress(8:01,21/ 5:11,19) Stickers:Motif 43/ Motif 87/ Motif 49
Lower Body:--
Arms:Longpao Hualin(8:02,22/ 6:14,18)
Shoulders:Fur Pauldrons(5:01,13/ 3:03,18)
Socks:Thigh Highs(0:00,29)
Feet:Kung Fu Shoes(8:02,18/ 9:11,0)
Accessory 1:Flower Brooch(9:02,18/ 9:18,5)
Accessory 2:--
Accessory 3:--
Fighting Style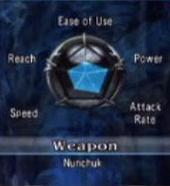 Theme Music
Soulcalibur IV
Soulcalibur V
Gallery
Soulcalibur IV
Soulcalibur V