REDIRECT Template:UserCharacter (Old)
Megan Sparkles is the New Character from Sanjay and Craig! on Soul Calibur V! Sanjay and Craig's over-enthusiastic and overachieving friend. Really smart, multi-talented, and hotheaded, Megan is a triple-threat pageant winner who also holds a black belt in every martial art. Whether she's churning butter on stage or thrashing Sanjay and Craig in a game of Jungle Safari Food Fight, Megan plays to win. Fortunately for Sanjay and Craig, she uses her vast arsenal of awesome skills to help them pull off their schemes. Aside from having a secret crush on Sanjay, she enjoys playing with all of them. Megan Sparkles is one of the main characters of the series. She is described in the commercials as a good friend of Sanjay and Craig. Megan often enters beauty pageants, and wins. She is also one of the very few people who is aware Craig can talk.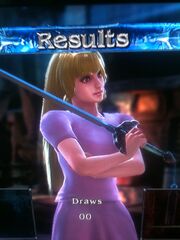 Ad blocker interference detected!
Wikia is a free-to-use site that makes money from advertising. We have a modified experience for viewers using ad blockers

Wikia is not accessible if you've made further modifications. Remove the custom ad blocker rule(s) and the page will load as expected.