FanChar:Hyper Zergling:Xie Tian
Talk

3
2,976pages on
this wiki
This article, "FanChar:Hyper Zergling:Xie Tian", was written by Hyper Zergling. Please do not copy or edit this fiction without the writer's permission.
Xie Tian

Xie Tian, as he appears in Soul Calibur V as of May 22, 2013
Birthplace
Zhangzhou, Ming Empire (present-day China)
Birthdate
October 1, 1561
Age
30 (Soul Calibur IV, Soul Calibur: Excalibur), 46-47 (Soul Calibur V, Soul Calibur: Rise of Omega)
Height
5'6" (168 cm)
Weight
116 lb (52 kg) (Soul Calibur IV, Soul Calibur: Excalibur)
123 lb (56 kg) (Soul Calibur V, Soul Calibur: Rise of Omega)
Blood type
A
Weapon
Chinese Sword (Soul Calibur: Excalibur, Soul Calibur IV)
Fists (Soul Calibur V, Soul Calibur: Rise of Omega)
Weapon name
Typhoon Edge (Soul Calibur: Excalibur)
Qing Long (Soul Calibur IV)
Tempered Fists (Soul Calibur V, Soul Calibur: Rise of Omega)
Fighting style
Yun-seong's (Soul Calibur IV)
Devil Jin (Soul Calibur V, Soul Calibur: Rise of Omega)
Family
Brother, Xie Di
Brother, Xie Yu
Brother, Xie Ren
Uncle and Master, Yangchen
Wife, Helen
Son, Owen
Nephew, Kevin
Disciple, Alexandra
Ancestor, Xie An
Alignment
Lawful Good
Appears in
Soul Calibur IV
Soul Calibur: Excalibur
Soul Calibur V
Soul Calibur: Rise of Omega
First game
Soul Calibur IV
English voice actor
Steve Downes (Soul Calibur: Excalibur)
Wally Burr (Soul Calibur IV)
Richard Epcar (Soul Calibur V)
Japanese voice actor
Akio Ōtsuka (Soul Calibur: Excalibur)
Xie Tian (Chinese: 謝天 Pinyin: Xiè Tiān) is a character who appears in Soul Calibur: Excalibur and Soul Calibur: Rise of Omega and is custom-made in Soul Calibur IV and Soul Calibur V.
What lies in his soul is Compassion. In Soul Calibur V's promotional material he would be referred to as Transformed by Loss; Xie Di, Xie Yu, and Xie Ren, however, like to jokingly refer to him as Mighty Strongest Guy.
Biography
Edit
Not much is known about Xie Tian's past, other than he learned Chinese martial arts from his uncle, Yangchen, and somehow acquired knowledge about Soul Calibur and Soul Edge. His travels took him to Europe, where he met Helen on a merchant vessel. The vessel was attacked by pirates, but the two drove the enemies away. Soon, Xie Tian and Helen were wed, and had a son together, named Owen.
Soul Calibur IV
Edit
Eventually, words of the Soul Calibur and Soul Edge became increasingly frequent, so Xie Tian set out alone to find a way to destroy both weapons. After fighting countless enemies, he was joined by Helen, who had notable physical changes, due to her recent encounter with Nightmare. Oddly, but yet fortunately, she was the same woman he had always known. With Helen's acquired power, the couple was unstoppable against the Soul Edge's minions. Within the conflict, they briefly fought side-by-side with Leandra, and spoke of fighting for a better future for their children (at the time, Leandra only had one daughter). Their efforts led them to witnessing the destruction of the Soul Edge by Siegfried. At the start of the temporary peace, Xie Tian returned home with his wife and also reunited with his brothers.
The following year, however, Helen underwent more physical transformation. As she clearly was no longer human, she locked herself in an abandoned castle far away, for fear that the Soul Edge shards lodged inside her would drive her to insanity. Throughout the years, she would use her powers to project images of herself to "visit" Xie Tian, but keep her presence secret from Owen. Wanting Owen to be strong enough to protect himself from potential future evils, Xie Tian sent his son to the Shaolin Temple two years after Helen's departure.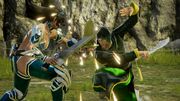 Six years after the destruction of the Soul Edge, Xie Tian, on "vacation", met Leandra for a second time. After having a friendly duel that resulted in a draw, Xie Tian asked of Leandra's daughter. Leandra, however, was confused, and told him that she only had
a son
. This inconsistency would stay in the head of Xie Tian until it would one day affect him personally.
Soul Calibur V
Edit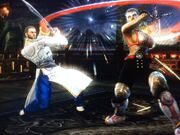 Eleven years after the friendly match against Leandra, Xie Tian attended a local festival. Leandra, who traveled to China, also attended the festival in search of Xie Tian, whom she wanted to test her new fighting style against. When Leandra saw that Xie Tian had no weapon, she told him that she would wait for him to get his sword. Xie Tian, however, told her that he was fine with fighting with his bare hands. He was intrigued by Leandra's newfound ability to summon a wolf-like creature to fight at her side. After the rematch, Leandra thanked Xie Tian and left China.
For several weeks, Helen became disturbingly silent. Xie Tian decided to set off on a wandering journey in hopes of finding her. Eventually, the the exposure to Soul Edge fragments seventeen years prior began taking a toll on his own physical appearance.
Post Soul Calibur V
Edit
At the start of his wandering, he visited a village that saw him as a hero against Soul Edge. Several of the villagers, however, were in position to attack a stranger. Xie Tian ordered the villagers to stand down, and immediately recognized the stranger's face as being remarkably similar to that of Leandra's. The girl introduced herself as Shindra, and asked Xie Tian of her parents' whereabouts. Xie Tian told her that not only did he not know where her mother was currently, but that her mother had forgotten of her existence. He advised Shindra to stop her search, but he would help her find her mother, once he found someone he himself was looking for. Both parted ways, having no plans of meeting each other again.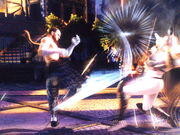 Several days later, Xie Tian would unexpectedly meet Shindra for a second time. From a distance, he saw Shindra fight a losing battle against a female knight in black armor. Xie Tian stepped in to save Shindra, and took over. Once he became the knight's opponent, however, the knight fought defensively, only blocking his attacks, and occasionally throwing a kick. Several seconds into the fight, Xie Tian recognized the sword and style he was facing, and realized that he was fighting none other than his wife.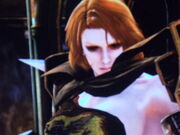 When he asked the knight to confirm the identity, she removed her helmet and indeed, revealed herself to be Helen. Xie Tian explained to Helen that Shindra is no longer the murderer she once was, and is now merely a lost child trying to find her parents. After a brief talk, the two agreed to help the girl with her search. Before parting ways, the couple reluctantly told Shindra that her mother is Leandra, shocking the girl.
Xie Tian and Helen would find Leandra not too long later, telling Leandra that she had a daughter looking for her. They also told Leandra where to find her missing daughter. As Leandra had always believed she only had a son, she did not take this information very well, so instead of immediately reuniting with her missing child, she headed home.
Helen, using her thought projection abilities, discovered that Shindra and Leandra eventually reunited, Shindra's real name is Alexandra, and that Shindra's father is the infamous Mitsurugi. Unfortunately, Helen later found out that Alexandra and Leandra were facing the third Nightmare, in an effort to demalfest Alexandra. Since Xie Tian and Helen were not too far away, they both decided that they would help. When they arrived at the scene, Alexandra was in Nightmare's grasp, and Leandra was in her Omega state, ready to fight Nightmare. Xie Tian immediately leaped at Nightmare and kicked his arm, freeing Alexandra. Helen caught Alexandra after she flew out of Nightmare's grip. Xie Tian's kick caused Nightmare to stumble, giving Leandra the opportunity to land a backhand on the Azure Knight and take him out with a stab to his chest. In his last moments at the given time, Nightmare taunted Leandra that she would never be rid of him. With the threat gone for now, Leandra reverted back to her normal form. Although Leandra and Alexandra failed their goal, they did not give up. With all the dangers arising, Xie Tian and Helen told the mother and her daughter that they would be around, in case more help was ever needed. Leandra wished the couple luck, and she continued her hunt for Nightmare with her daughter.
Helen continued to use her thought projection to keep an eye on Leandra and Alexandra. She saw them defeat Nightmare and turn Alexandra back to normal. Alexandra then asked Leandra to allow her to train under Xie Tian and Helen, and Leandra agreed. Through her thought projection, Helen told the mother and daughter the she and Xie Tian accept Alexandra as their student. When Helen's thought projection led Leandra and Alexandra to her and her husband's location, Leandra left for her endless quest. The training began the next morning.
Weeks later, in the middle of Alexandra's training, three assassins sent by Nightmare targeted the girl with crossbows. Helen blocked all three crossbow bolts with her body, while Xie Tian killed the three malfested soldiers. Helen was able to track Nightmare's location, but soon discovered that he was the Azure Knight was on a collision course with her son. The three were just close enough to Nightmare to have hopes of intercepting him before he could reach Owen.
Unfortunately, Nightmare managed to destroy Helen's thought projection that had been following him. This stunned Helen and prevented her from creating another projection. When the three reached Owen's location, Nightmare was already fighting Owen as well as Yuner. Alexandra immediately rushed forward and overpowered the weakened Nightmare, stabbing him in the abdomen. With a vow to kill Alexandra and her friends, Nightmare escaped through dissolution.
The reunion of Xie Tian, Helen, and their son was cut short when an entire army of malfested soldiers arrived at the now-ghost town. The five of them fought through the mass number of enemies, with the help of Leandra, who was firing gunshots from afar. After the servants of Nightmare were defeated, Xie Tian ordered Owen to return to the city he had been living in, and to take Yuner with him. Owen agreed to his father's commands and left his parents and Alexandra to continue their hunt on Nightmare. By the time the three reached Nightmare, however, the Azure Knight had already transformed into a form that resembled Night Terror. Just as they confronted Nightmare's new form, Xie Tian informed Alexandra of the Jingu Staff, a weapon that grants the wielder incredible strength. Xie Tian also told Alexandra to go to Owen and help him find the staff, as Owen had also trained in wielding staves. Alexandra wished her masters luck before husband and wife began holding the monster off.
When Alexandra returned with Owen (Yuner was not present, however), now wielding the Jingu staff, the latter charged forward, while his parents retreated. Nightmare struggled to block the blow, due to the sheer mass of Owen's weapon. The fight between Nightmare and Owen was even, with neither side holding advantage. As the battle dragged out, however, Owen began to falter. Alexandra charged into the fight, distracting Nightmare just enough for Owen to wind up the Jingu staff and knock the monster to the ground. Before the Nightmare could get back up, Alexandra stabbed the center of his chest. Nightmare's body disintegrated, leaving nothing but Soul Edge. Being immune to Soul Edge's control, Helen grabbed the weapon, and told Alexandra that she would hold onto it until she finds the current wielder of Soul Calibur. To prevent endangering Owen and Alexandra with malfestation, Helen told them that she and Xie Tian needed to bring Soul Edge to Luke alone.
Many of Soul Edge's servants attempted to stop Helen and Xie Tian, but none were a match for the two. This changed when they were ambushed by
the Edge Mistress
,
Tira
, and
Dürer
. Although the two were able to hold their own, they were outnumbered and were clearly on the losing end of the fight.
In the middle of the battle, Xie Tian succumbed to his malfestation, and mutated into a lizard-like creature. In this form, he was able to fight off all three of his enemies. Tira, however, was able to grab hold of Soul Edge, and the three servants escaped. Completely out of control, Xie Tian attacked his wife, and then moved on after barely leaving her alive.
For several days, the mutated Xie Tian wandered aimlessly, killing anything in his path that moved. Owen, accompanied by Yuner, eventually found his father in his current state. Owen was able to fight his father and stun him just long enough for Yuner to begin her demalfestation process. Fortunately, Yuner's curing was a success, and Xie Tian was once again human.
more to come
Personality
Edit
Despite his appearance, Xie Tian is a fairly gentle man and avoids violence. He will, however, kill anyone who he considers "inherently evil" without a second thought.
Soul Calibur IV
Edit
Soul Edge and/or Soul Calibur rise up in swirls of energy. Xie Tian looks up, rushes to the sword(s), jumps, and grabs the or both swords. He looks around and sees the energy coming to him. Xie Tian lifts the sword(s) while it/they glow(s) with power (if both swords are held, a vortex will lift Xie Tian off the ground), rushes forward again, slashes the energy dispersing him, and jumps off the tower. The scene changes to him with the Soul Calibur or Soul Edge in the ground. He pulls it out and raises it in triumph.
The text only screen says "His name will be engraved in history and will live on forever."
Hypothetical
Edit
Algol is on the ground, with Soul Edge and Soul Calibur next to him. Xie Tian ignites yellow spheres of energy from his hands, and then throws the spheres at the two swords, sending them flying, but otherwise leaving them unscathed. He then creates and throws more energy spheres at the swords, doing nothing but propelling them further. Frustrated, Xie Tian walks up to Algol and says "Please tell me: how do you destroy the swords?" Algol rises to his knees and responds with "The key is already in your possession. Only she can end our suffering." Understanding what Algol means, Xie Tian thanks the hero king with a nod and walks away.
The text-only epilogue says: "Helen's powers destroyed Soul Edge and Soul Calibur. Xie Tian and his family lived the rest of their life in peace."
Fighting Style
Edit
In Soul Calibur IV, Xie Tian shares the same moveset as Yun-seong. In Soul Calibur V, he has Devil Jin's fighting style.
Hypothetical
Edit
Xie Tian's moveset involves rapid and powerful chops with his sword as well as relatively swift and strong kicks. His energy attacks are also effective in that they fly across the entire stage. Xie Tian's main downfall is that he can often be caught in performing comboes when the opponent is already knocked away.
Critical Finish
Edit
In Soul Calibur IV, Xie Tian shares the same critical finish as Yun-seong.
Hypothetical
Edit
Final Palm of Destruction: Xie Tian sheaths his sword, says "I win," and glows in yellow qi. He knees the opponent and follows up with an overhead swing, throwing the opponent away. He then teleports behind the opponent and sends him/her upwards with a vertical kick. Before the opponent lands, Xie Tian thrusts his right palm forward, blasting the opponent off the stage with a massive invisible force.
Enough Dead Heroes: Against his family members or wife, he says, "Enough," while sheathing his sword, rapidly bursts behind his opponent, and then delivers a chop onto the back of his/her neck, knocking him/her unconscious.
Hypothetical Default Skills
Edit
Default Skills
Auto Counter B
Start Dash C
Run Speed Up
Soul Calibur IVEdit
Here I come!
Kneel!
You are wasting your time with your rhetoric."
Very well then. I shall fight you.
I shall take in your resentment.
It seems we're both destined for hell.
Put down your weapon if you wish to live.
Let's see how well you fight.
An empty victory!
I guess I could have eased off a little.
Soul Calibur: ExcaliburEdit
Here we go.
Bring it.
Enlighten me.
Nothing I can't handle.
Alright, here we go.
You ready?
I'm sorry.
Stay down.
I'm just curious, why am I so good?
I win.
Dammit.
I'm gone...
Soul Calibur VEdit
Why do you choose to fight?
What do you hope to accomplish?
My power knows no bounds.
You are a worthy opponent indeed.
There is no hope for you.
You are powerless before me.
Relationships
Edit
Soul Calibur IV
Edit
Soul Calibur V
Edit
Hypothetical
Edit
Xie Tian's creation
Edit
Soul Calibur IV
Edit
Name: XIE TIAN (male)

Alignment: Good

Head: Death's Cloak [6-01-29]

Face: ----

Neck: ----

Shoulder: ----

Underwear: Chainmail [6-01-29/6-01-29]

Torso: Zhuque Changpao [6-01-29/6-08-17/6-01-29/6-08-17]

Arm: ----

Leg: Dragon Slacks [6-01-29/6-01-29/6-01-29/6-08-17]

Ankle: Shinobi Tabi [6-01-01]

Foot: Kung Fu Shoes [6-01-29/4-07-18]

Accessory: n/a

Physical: -46/+25

Voice: #6 [+5]

Hair: Buzz Cut [3-01-32]

Face: #7

Eye Brow Color: [3-01-32]

Eye Color: [3-06-26]

Skin Color: [4-09-12]

Style: Yun-seong

Weapon: Qing Long
Soul Calibur V
Edit
Malfested
Edit
Fighting Style: Devil Jin
Body:

Height: 3
Base Body Type: Normal
All -20
Muscle Mass: 4

Face 9
Hair: Buzz Cut
Eyebrows 6
Voice:

Super Human
Pitch: -5
Tone: 5
Malfestation Level: Serious

Equipment:

Lower Body: Kung Fu Pants
Arm: Large Bandages
Ankle: Short Socks
Feet: Kung Fu Shoes
Specialized: Beetle Horns (anything not listed means 0)

Equipped Location: Chest
Vertical: 21
Back: 14
Width: -29
Length: 50
Rotate Vertically: -141
Rotate Horizontally: -27
Angle: -1

Weapon:

Manga Pack

Colors/Patterns/Stickers

Body Color:

Skin: [1:9, 10]
Hair, Facial Hair, and Eybrows: [9:0, 31]
Eyes: [9:4, 14/9:44, 23]

Equipment Colors:

Lower Body: [9:0, 31/9:0, 31]
Arm: [8:0, 8]
Ankle: [0:0, 1]
Feet: [2: 0, 31/1:11, 14]

Weapon Color:

Weapon Trail: [9:0, 8]
Fighting Style: Devil Jin
Body:

Height: 3
Base Body Type: Normal
All -20
Muscle Mass: 3

Face 9
Hair: Buzz Cut
Eyebrows 6
Voice:

Super Human
Pitch: -5
Tone: 5
Malfestation Level: None

Equipment:

Undergarments: Long-Sleeved Top
Upper Body Covering: Samurai's Haori
Lower Body: Kung Fu Pants
Hip: Marquis' Belt
Arm: Lusca Gauntlets
Ankle: Short Socks
Feet: Menghu Boots

Weapon:

Manga Pack

Colors/Patterns/Stickers

Body Color:

Skin: [2:9, 10]
Hair, Facial Hair, and Eybrows: [9:0, 31]
Eyes: [2:5, 28/0:1, 6]

Equipment Colors:

Undergarments: [0:0, 31]
Upper Body Covering: [9:10, 15/9:10, 15/9:10, 15]
Lower Body: [0:0, 31]
Hip: [0:0, 0/0:21, 19/0:0, 31]
Arm: [0:0, 13/0:0, 13]
Ankle: [0:0, 1]
Feet: [0:0, 13/0:0, 13]

Weapon Color:

Weapon Trail: [9:0, 27]