Ad blocker interference detected!
Wikia is a free-to-use site that makes money from advertising. We have a modified experience for viewers using ad blockers

Wikia is not accessible if you've made further modifications. Remove the custom ad blocker rule(s) and the page will load as expected.
REDIRECT Template:UserCharacter (Old)
Andromache Marinos (アンドロマケ マリノス, Andoromake marinosu Greek: Ανδρομάχη Μαρίνος) is a character in the Soul series of games who has made her debut in Soulcalibur V. She is the childhood friend of Alexandria Angelopoulos and Chelsea Papadopoulos.
Create-a-Soul formula SCV
Name:Andromache
Sex:Female
Style:Patroklos
Weapon:Spatha and Scutum(9:43,17/ 0:09,20/ 6:09,26/ 9:43,17)
Weapon Trail:9:33,15
Stage:Free Imperial City Center
Voice:Cynical Pitch:0 Tone:-10
Malfestation Level:None
Face:Female Face 2
Eyebrows:3:02,29
Eyes:1:03,26
Hair:Long Braid(6:02,28/ 9:62,23)
Underwear:Basic Clothes(0:0,0/ 0:0,0)
Skin:2:07,2
Upper Body:--
Lower Body:Slit Skirt(3:00,0)
Chest:New Centurion
Hip:--
Arms:Vagrant's Kote(2:41,9/ 5:08,19/ 9:00,0/ 8:00,0)
Shoulders:Viking Shoulders(0:00,0/ 9:00,14/ 9:08,25)
Neck:--
Socks:--
Feet:Gladiator's Boots
Accessory 1:Angel's Feathers
Accessory 2:--
Accessory 3:--
Quotes
So, you wanna fight?
The battlefield's where I belong.
You seem strong.
I'm hungry.
You're think you're strong enough?'
Ready?
..and go!
Idiot.
I won't lose!
You think so?
Too much!- spoken during Guard Burst
I won't go easy!- spoken before Critical Edge
You're mine!- spoken during Critical Edge
Fighting Style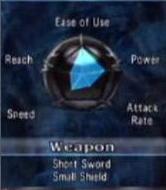 Theme Music
Soulcalibur V