Erlang's Blade (SCIV)
Wielder
Cervantes
Weapon type
Longsword and Pistol Sword
Price
7,500 Gold
Attack
150
Defense
50
HP
20
Power
30
Impact
30
Boost
30
Gauge
30
Special
30]
Native skill
None
Erlang's Blade (SCIII)
Wielder
Cervantes
Weapon type
Longsword and Pistol Sword
Price
25,600 Gold
Special Effect #1
Guard Impacts become easier to perform.
Special Effect #2
Automatically Guard Break some attacks.
Erlang's Blade (SCII)
General Information
Wielder
Cervantes
Weapon Type
Longsword and Pistol Sword
Obtainment
For sale in
Chapter 3
Price
1,200 Gold
Statistics
 Erlang's Blade is one of Cervantes' weapons in Soul Calibur II, III, and IV.
Soul Calibur II
Long reach, but vulnerable to impact.
Offense: 100% Defense: 100%
Description: Also called a tri-point double-edged sword, its name comes from the Chinese hero-god, Erlang. It is actually a pole weapon, but Cervantes cut short the handle in order to make it easier to hold. It has a good reach, but because it is not as long as it was designed to be, the balance is poor.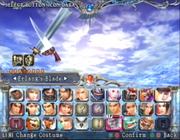 Soul Calibur IV
Erlang's Blade
is one of
Cervantes
' weapons in
Soulcalibur IV
. It can be bought in
Character Creation
for 7,500 Gold after completing Story Mode with Cervantes.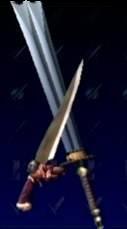 Ad blocker interference detected!
Wikia is a free-to-use site that makes money from advertising. We have a modified experience for viewers using ad blockers

Wikia is not accessible if you've made further modifications. Remove the custom ad blocker rule(s) and the page will load as expected.