Elysium
Talk

68
3,265pages on
this wiki
Elysium

Elysium, as she appears in Soulcalibur V.
Birthplace
Unknown
Birthdate
Unknown
Age
Unknown
Height
Immeasurable
Weight
Immeasurable
Blood type
None
Weapon
Soul Calibur (changes form)
Weapon name
Soul Calibur
Fighting style
Memories of Soul Calibur
Family
None
Appears in
Soulcalibur IV
Soulcalibur V
Soulcalibur: Lost Swords
First game
Soulcalibur IV
English voice actor
Diane Holmby
Japanese voice actor
Chie Nakamura
"You and I, will live forever, my dear son."
— Elysium
Elysium (エリュシオン, Eryushion, Greek: Ἠλύσιον) is a character in the Soul series. She makes her debut appearance in Soulcalibur V as a major antagonist and the final boss. She is the spirit and will of Soul Calibur, similar to how Inferno is the living incarnation of Soul Edge.
Appearance
Edit
She is wearing revealing attire, similar to a Greek goddess. She wears a white cloth covering her cleavage, under a semi-transparent sheet. She also wears a semi-transparent miniskirt over white 'panties'. She wears a greek cloth solea on her feet. And a cloth on her left arm, and a gold bracelet on her right wrist. On her head, she wears a gold and glass helmet with four wings and a diamond. She has two long sparkling wings on her back. She has long, braided hair with a blue bow, and is in general very similar to Sophitia.
Despite the feminine appearance, Elysium possesses no true sex, only choosing to present 'herself' in a female shape (Elysium claims that she is perceived in this fashion by Patroklos out of his own choosing, modeling her after Sophitia, who is his mother).
Elysium is the entity that guides the wielder of the Soul Calibur.
In the Story Mode, she guided Patroklos on his journey to restore Soul Calibur. She wanted Patroklos to resurrect Soul Calibur, saying that with the maximum power of Soul Calibur, he would save Pyrrha of the malfestation. This led Patroklos to get the other two treasures, Kali-Yuga and Dvapara-Yuga, which were in the hands of Xiba and Leixia respectively. After the resurrection of Soul Calibur, Elysium appears saying that with this power, he could save Pyrrha and the world from the evils of Soul Edge and its wielder, making him wield Soul Calibur, and she says "Good boy, I'm so proud of you" and convincing him to kill his sister beside her. However at the end, she revealed herself to be a manifestation that Patroklos created with Soul Calibur. At Episode 20, Elysium brought Patroklos to the Utopia of the Blessed and seeing that he was no longer able to defeat Soul Edge, she decided to use his body to destroy the new wielder of Soul Edge. However, Patroklos refused and defeated her in battle. As her body disintegrated and disappeared, Patroklos returned to the real world, saying, "Good-bye, Mother".
Personality
Edit
Elysium is a spirit of fierce judgement. She is solely focused on her intention to destroy Soul Edge and its wielder. While she is seemingly benevolent of nature, she is ruthless in her pursuit of her ultimate destiny, willing to take anything she needs, in order to fulfill it. Her intentions are pure as she wants to prevent her brother Inferno (Soul Edge) from causing destruction of the world and has a strong sense of justice, but they can cause her to be manipulative and ruthless.
Fighting Style
Edit
Much like Edge Master and Kilik, Elysium mimics the moves of other characters. While Kilik mimics all the male characters, Elysium mimics all of the female characters.
Much like when Edge Master or Kilik mimic Xiba, Elysium gets special advantages when she uses the style of Pyrrha Ω. These changes essentially make her a more "true" copy of Sophitia. For example, she now has Sophitia's original Angel Step and Twin Angel Step in place of Pyrrha Ω's toned down version, Nemesis Step. Because of this, many of her attacks involving Angel Strike (formerly Nemesis Strike) have been altered considerably. Namely, they grant Elysium frame advantage equivalent to Sophitia's Soulcalibur IV incarnation, and deal much more damage than Pyrrha Ω's Nemesis Strike. Elysium also copies the female's taunts, but when she mimics the fighting style of Pyrrha Ω, the taunt is changed. Despite major changes, Elysium still retains Pyrrha Ω's fighting stance rather than Sophitia's.
Eleusian Initiation: Unlike Edge Master and Kilik, Elysium has a unique Critical Edge. Translucent crystal wings appear in her back, she then hovers above the ground, surrounded by multicolor light, while her opponent gets hit nineteen times by an invisible force. This always hits the opponent regardless of range or positioning, and can only be avoided by guarding.
Mimic Weapons Details
Edit
Hilde: It has a dark blue color on the scabbard and the handle of the lance, while the sword and spear has the Soul Calibur weapon design.
Ivy: It has a similar look to Ivy's Soul Calibur weapon from Soulcalibur IV and Broken Destiny, but with a different handle.
Leixia: Elysium uses the same Soul Calibur weapon design as Xianghua.
Natsu: It has a similar look to one of Taki's weapons, Kris Naga, but recolored blue.
Pyrrha & Pyrrha Ω : It is the same as Patroklos's Soul Calibur weapon set.
Tira: It looks similar to Tira's weapon, Bifrost.
Viola:It has a similar look to the Master (Crystal Ball), but brighter and with a light blue color.
Utopia of the Blessed (SCV)
Theme Music
Edit
"Sacred Dawn" (Soulcalibur V)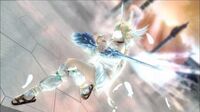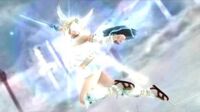 Relationships
Edit
Etymology
Edit
The name Elysium comes from the Greek afterlife of bliss. The Elysian fields are the part of the underworld where those chosen by the gods, righteous or heroic would live happily for all eternity. This is comparable to the idea of heaven in many modern religions.
As Elysium is understood to be the opposite of Inferno, it is worth noting that the word "Inferno" is Latin and "Elysium" is taken fron the Greek "Elysion pedion". Traditionally, the opposing counterpart of "Inferno" is "Paradiso", while the opposing counterpart of the Elysian fields is "Tartaros" or "Tartarus".
Series' Appearances
Edit
External links
Edit
References
Edit