Defender (SCIII)
Wielder
Seong Mi-na
Weapon type
Halberd
Price
11,200 Gold
Special Effect #1
Increase defense power.
Special Effect #2
Some Counters will have no effect.
Defender (SCII)
General Information
Wielder
Seong Mi-na
Weapon Type
Halberd
Obtainment
For sale in
Chapter 1
Price
600 Gold
Statistics
Defender (SE/SB)
General Information
Wielder
Cervantes
Weapon Type
Longsword and Pistol Sword
Statistics
Power
3/10
Defense
8/10
Strength
6/10
Other
Durability
7/10
Weight
3/10
Innate Abilities
None
The Defender is one of Cervantes's weapons in Soul Blade.
The Defender is also one of Seong Mi-na's weapons in Soulcalibur II and Soulcalibur III.
A lance that lives up to its name, it is difficult to use in an assault, but it shows its true worth when being used to protect something.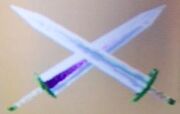 Ad blocker interference detected!
Wikia is a free-to-use site that makes money from advertising. We have a modified experience for viewers using ad blockers

Wikia is not accessible if you've made further modifications. Remove the custom ad blocker rule(s) and the page will load as expected.