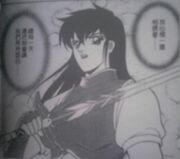 In this Chinese name, the family name is Chai (柴).
Chai Xiangfei (チャイ・シャンフェイ, Chai Shanfei; Chinese: 柴香菲, Pinyin: Chái Xiāngfēi) is the estranged mother of Xianglian and Xianghua and was sent to the prestigious Ling-Sheng Su Temple to learn the art of swordplay. She diligently trained and became supremely skilled with the jian. She fell in love with a man named Xiuqiang and mothered two daughters with him. When their relationship was discovered, the monks took her daughter and she was forced to leave the temple.
Character History
A general's son is taken hostage and used as leverage to free a bandit leader. The general's other offspring, Golden Swallow (Chai Xiangfei), is sent to rescue her brother. When the bandit gang encounter the Golden Swallow in a local inn, the following prisoner negotiation escalates to bloodshed and the goons are swiftly defeated.
A local drunk beggar named Kong Xiuqiang acts as Golden Swallow's guardian angel, secretly helping her avoid being ambushed at night. That morning Kong Xiuqiang, who now we know only as "Drunken Cat" tips off Golden Swallow to the bandits whereabouts. They have taken siege of a Buddhist temple. Under the guise of an acolyte Golden Swallow penetrates the temple and confront the man who's taken her brother hostage. During the brawl she is injured by a deadly poisoned dart. She escapes and is rescued in the woods by Xiuqiang who nurses her back to health. While she's convalescing, Golden Swallow learns that Xiuqiang is a martial arts master and a leader of a Kung Fu society. Unfortunately, the bandits have allied with an evil abbot, who is the rival for the leadership of Xiuqiang's sect. The evil abbot is revealed to be Xiuqiang's brother who had inducted him into the Ling-Sheng Su temple. For both reasons, Xiuqiang is reluctant to fight the abbot even though Xiuqiang knows about the abbot's criminal deeds.
In order to release the General's son, Xiuqiang stages a prisoner exchange. During the exchange, the government soldiers receive the General's son, but Xiuqiang prevents the bandits from releasing their leader. As the government soldiers march the bandit leader back to prison, the bandits attack the procession. Golden Swallow, leading her female warriors, fights off the bandits. The evil abbot then forces a showdown with Kong Xiuqiang.
Create a Soul formula SCIII
Xiangfei
Name: Xiangfei
Sex: female
Job: Dancer
Style: Soul of Xianghua
Weapon: Krita-Yuga
Alignment: Normal/Light
True Alignment:--
Face: No.7
Eyebrows: Color (6, 4)
Lips: Color (3, 15)
Eyes: Color (1, 5)
Skin: Color (4, 15)
Underwear:--
Voice: Woman
True Voice:--
All:--
Head:--
Hair: Semi-Long Straight (32, 27)
Lower Torso: --
Mid Torso: Spy Robe (21, 15)
Upper Torso: Iron Armor (25, 5)
Arms: Long Gloves (1, 24)
Waist:--
Shoulders: --
Lower Legs: Lady Pants (3, 13)
Shins: --
Socks: --
Feet: Leather Leggings(2, 4)
Information in create a soul formula section was contributed by Ericard[1].
Relationships
Former partner and lover of Kong Xiuqiang.
Chai Xianghua's mother once defeated many bandits. She also observed her mission from the general and she was the leader of her group of female warriors during her campaign.
Trivia
Gallery
Ad blocker interference detected!
Wikia is a free-to-use site that makes money from advertising. We have a modified experience for viewers using ad blockers

Wikia is not accessible if you've made further modifications. Remove the custom ad blocker rule(s) and the page will load as expected.