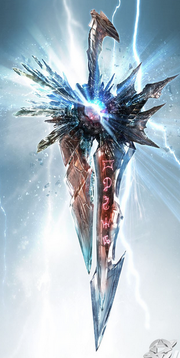 Broken Destiny is an unlockable weapon for Siegfried and Nightmare in Soulcalibur: Broken Destiny. They appeared to be a fusion of both Soul Edge and Soul Calibur as they appear in Soulcalibur IV. They may have been based upon the Soul Embrace, but does not bear much resemblance to them.
Broken Destiny bears slight resemblance to Nightmare/Siegfried's version of Soul Calibur in Soulcalibur II.
Gallery
Ad blocker interference detected!
Wikia is a free-to-use site that makes money from advertising. We have a modified experience for viewers using ad blockers

Wikia is not accessible if you've made further modifications. Remove the custom ad blocker rule(s) and the page will load as expected.