Bowl Cut
is a hairstyle that, like its name, is in a bowl cut style. It is mostly black; however, part of the bangs have been dyed purple.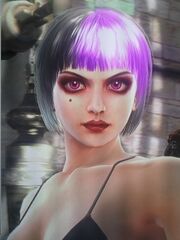 This hairstyle is used by Tira in her 2P oufit and can be used for customized characters.
The hairstyle is available in Soul Calibur IV, Soul Calibur: Broken Destiny and is also available in Soul Calibur V.
Ad blocker interference detected!
Wikia is a free-to-use site that makes money from advertising. We have a modified experience for viewers using ad blockers

Wikia is not accessible if you've made further modifications. Remove the custom ad blocker rule(s) and the page will load as expected.