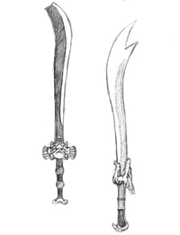 Blue Thunder (SCIII)
Wielder
Hwang
Weapon type
Chinese Sword
Price
Free
Blue Thunder (SCII)
General Information
Wielder
Yun-seong
Weapon Type
Chinese Sword
Obtainment
For sale in
Chapter 8, Chapter 10, Subchapter 3
Price
4,000 Gold
Statistics
Blue Thunder is Hwang's weapon in Soulcalibur, but in Soulcalibur II, it appeared as one of Yun-seong's weapons, despite Hwang's absence, and then in Soulcalibur III, the weapon was available for Hwang. However it does not have any special effects.
A sword that Korean Admiral Lee Sun Shin received in his younger days from his closest friend, Seong Han-myeong. When the Korean national hero, Hwang, went out on his second quest for the Sword of Salvation, the Admiral himself presented this sword to him. It does not do much damage with each hit, but its weight breaks the opponent's stance.
Ad blocker interference detected!
Wikia is a free-to-use site that makes money from advertising. We have a modified experience for viewers using ad blockers

Wikia is not accessible if you've made further modifications. Remove the custom ad blocker rule(s) and the page will load as expected.