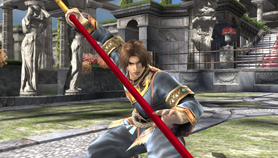 This page describes
Kilik
's Battle Style in each of the games in which he appeared.
In Soulcalibur, Kilik's fighting style is based on Seong Mi-na's, although many people think that Mi-na's was based on his. He uses the range of his rod to get at long-range and set up many combos that can put a short-range character like Sophitia at a disadvantage. He also uses the raw power sometimes, overpowering many of other characters' single strikes.
In Soulcalibur II, his style deviates a bit more from Seong Mi-na's, but still uses the same basic techniques.
Even as Seong Mi-na's style drifts away from its original roots, Kilik's style stays basically the same while adding in some new moves now that he has a style that doesn't mirror another one.
It's the same that Soulcalibur III.
It's basically the same as in Soulcalibur III, but he does get even more originality from his original style while still sticking to the same techniques.
It's the same that Soulcalibur IV.
Kilik is a mimic character, he uses only the male characters discipline wielding the same weapons as Edge Master. However, when he uses his son, Xiba's style, he resumes wielding the Kali-Yuga and one of his iconic attacks, Wind Devine Flare.
Ad blocker interference detected!
Wikia is a free-to-use site that makes money from advertising. We have a modified experience for viewers using ad blockers

Wikia is not accessible if you've made further modifications. Remove the custom ad blocker rule(s) and the page will load as expected.