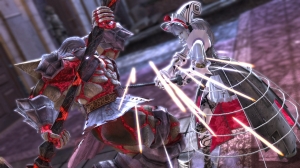 This page describes Astaroth's Battle Style in each of the games in which they have appeared in.
Astaroth's moveset relies on heavy yet somewhat slow attacks using a giant axe. He has several easy to perform unblockable attacks and throws which are performed differently than normal throws.
Astaroth's style is the same as in Soulcalibur with a few changes.
https://www.youtube.com/watch?v=wcCar-wFTLg
His style is still pretty much the same as it was in previous games.
Part 1: https://www.youtube.com/watch?v=leSiA-wadbI
Part 2: https://www.youtube.com/watch?v=T0vXpWP6Lss
Same as Soulcalibur III.
Same as previous games but with a few changes and new throws. This is shared with Ashlotte.
https://www.youtube.com/watch?v=j20aJkSYc_Y
Same as Soulcalibur IV.
Same as Soulcalibur: Broken Destiny.
Ad blocker interference detected!
Wikia is a free-to-use site that makes money from advertising. We have a modified experience for viewers using ad blockers

Wikia is not accessible if you've made further modifications. Remove the custom ad blocker rule(s) and the page will load as expected.