Acheron
General Information
Wielder
Cervantes
Weapon Type
Longsword and Pistol Sword
Obtainment
For sale in
Chapter 4, Chapter 5
Price
1,600 Gold
Statistics
 Acheron is one of Cervantes' weapons in Soul Calibur II. 
Soul Calibur II
Offense increases with Soul Charge, but guard is penetrable.
Offense: 100% Defense: 100%
Note: Acheron allows through 20% of damage from blocked attacks.
Description:
A long sword that lay in storage along with Nirvana on Cervantes's flagship, the Adrian. Cervantes used this sword for a period of time before reviving Soul Edge. It is good for both offense and defense. But when blocking an opponent's blow, the shock is fierce, which takes its toll on the wielder's body.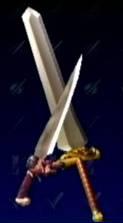 Ad blocker interference detected!
Wikia is a free-to-use site that makes money from advertising. We have a modified experience for viewers using ad blockers

Wikia is not accessible if you've made further modifications. Remove the custom ad blocker rule(s) and the page will load as expected.