The Absolution Hip Togi is a short, silken, golden-laced skirt. It is available for female characters as purchasable DLC in Character Creation for Soulcalibur V.
Soulcalibur V
This Lower Body equipment is worn by Elysium in her 1P Costume. It was made available as part of the SCV Character Equipment 1 DLC package on April 3, 2012, along with the rest of Elysium's equipment. Aforementioned package can be purchased at the Cepheus Store for $1.99.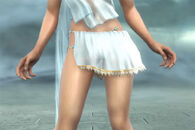 See Also
Ad blocker interference detected!
Wikia is a free-to-use site that makes money from advertising. We have a modified experience for viewers using ad blockers

Wikia is not accessible if you've made further modifications. Remove the custom ad blocker rule(s) and the page will load as expected.